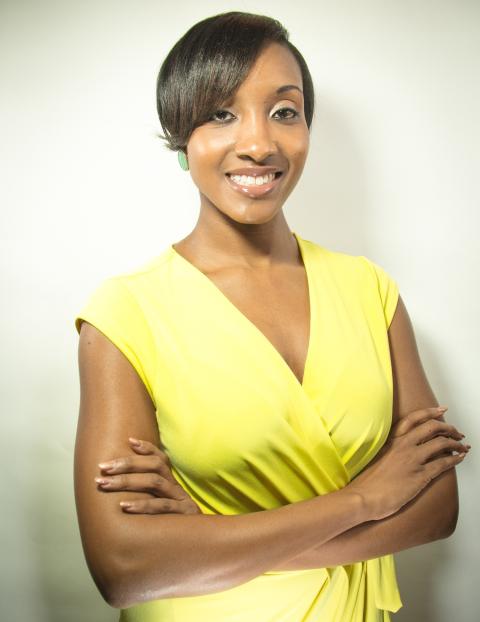 (Boston, MA) Cathy Edwards, executive director of the New England Foundation for the Arts (NEFA), is pleased to announce that Indira Goodwine will join the organization in March 2019 as the new Program Director, Dance. Goodwine will direct NEFA's National Dance Project and major dance initiatives in New England, as well as collaborate with other NEFA programs supporting the dance field.
With a dual background in dance and arts administration, Goodwine most recently served as the managing director of Camille A. Brown & Dancers (CABD, Inc.) for the past two and a half years, and served as the company manager for several years prior. At CABD, Inc., she shepherded the organization through the attainment of 501(c)(3) nonprofit status, established of the organization's founding Board of Directors, enhanced the institutional and individual fundraising efforts, increased the budget by at least 30% per year since 2012, and provided oversight of the development, implementation and continued growth of CABD's dance engagement program, "EVERY BODY MOVE." In addition, under her management and in partnership with PMG Arts Management, CABD has toured extensively throughout the United States with support from NEFA's National Dance Project.
Prior to her leadership role with CABD, Indira held positions at Harlem Stage, collaborating with operations, community partnerships, finance, and programming of the annual dance program, E-Moves. Originally from Queens, NY, she holds a BFA in Dance Performance from Florida State University and an MA in Performing Arts Administration from New York University.
"I am truly excited to join the team at NEFA," said Indira Goodwine. "I have long admired NEFA's national philanthropic commitment to diversity, inclusivity, and accessibility for performing artists, particularly its work with emerging and established choreographers in the nonprofit arts sector. NEFA continually strives to nurture extensive artistic and presenting partnerships that support the growth of creative communities across the nation. I look forward to embedding myself in the fabric of NEFA and advocating for the dance community through a nuanced framework that propels the field forward with a focus on activism, equity, creativity, and engagement."
"We are very excited that Indira will be joining NEFA and assuming leadership of the National Dance Project," said NEFA executive director Cathy Edwards. "Indira is an entrepreneurial, artist-focused administrator, whose experience as Managing Director of Camille A. Brown & Dancers has given her a unique and critical insight into the state of the dance field, and the potential of dance to build strong communities and advance equity and justice."
NEFA's National Dance Project (NDP) is in its third decade, and is widely recognized as one of the country's major sources of funding and field building for dance, supporting both the creation and touring of new works. NDP has invested more than $37 million in funding to artists and organizations to strengthen partnerships and bring dance into communities across the U.S. To date, NDP has supported the creation of over 432 new choreographic works that have toured to all 50 states and Washington, DC, reaching over 3 million audience members. In addition to NDP, NEFA supports dance in New England and beyond with regional grants programs and special initiatives. NEFA's National Dance Project is generously supported with lead funding from the Doris Duke Charitable Foundation and the Andrew W. Mellon Foundation, with funding for special initiatives from the Barr Foundation, the Boston Foundation, and the Aliad Fund at the Boston Foundation.
About NEFA
The New England Foundation for the Arts invests in the arts to enrich communities in New England and beyond. NEFA accomplishes this by granting funds to artists and cultural organizations; connecting them to each other and their audiences; and analyzing their economic contributions. NEFA serves as a regional partner for the National Endowment for the Arts, New England's state arts agencies, and private foundations. Learn more at www.nefa.org.
###
CONTACT: Ann Wicks | 617-951-0010 x534