(Boston, MA) Wild Rumpus is an invitation for Boston of to join a joyous gathering at The Steps at Downtown Crossing. Hosted by the Design Studio for Social Intervention (DS4SI), in collaboration with New England Foundation for the Arts (NEFA) and Downtown Boston BID, Wild Rumpus is curated by a multi-racial team of local artists with the intentions of centering joy and creative expression across communities of Black, Indigenous, People of Color (BIPOC) in the heart of Downtown Boston. In collaboration with over 30 artists, each day will offer a dimension of collective nourishment, imagination building, and play in public.
"We chose the themes of joy, play, and connection for Wild Rumpus and the inPUBLIC Summer Series, because we believe it is a powerful antidote to how much loss, grief, and violence have been amplified across the US and specifically have targeted our community members in public." - Crystal Bi, DS4SI 
What: Wild Rumpus
When: August 11-13, 2022
Where: The Steps at Downtown Crossing
Free and open to the public.
Curated by a team of local artists (Dzidzor Azaglo, Crystal Bi Wegner, Letta Neely, Sheila Novak, Stefanie D. Belvanis, Diya Ghosh, Diamond McMillion, and Bedelyn Dabel), Wild Rumpus is part of inPUBLIC, an on-going public-making festival. Wild Rumpus features Boston area artists welcoming the whole family to play in co-creating publics that are as wildly imaginative as they are welcoming. These Boston based artists are skillfully amplifying ways to invite us into co-creating more spatially just spaces through transforming the steps at Downtown Crossing to be a space where collective rest is possible, dances across cultures can be shared, and an amplified playground for all ages can be experienced.
Thursday, August 11, 5:00-8:00 PM: The People's Rest - Thursday highlights rest and rejuvenation, with yoga, crochet, and sound healing on the eve of the Sturgeon Full Moon. Catch a live excerpt of Company One's new show "can I touch it?," grounding the three-day festival within the roots of spatial justice.
Friday, August 12, 5:00-8:00 PM: The People's Prom - Friday, join Boston's public dance party, with everything from salsa to house, vogue, and more. You can dance, listen, even take lessons. Come as you are or go all out and wear your favorite outfit. There will be costumes on site.
Saturday, August 13, 12:00-4:00 PM: The People's Playground - Saturday, try out The Steps as a giant 3D maze! Play childhood games like musical chairs and freeze tag, join a multicultural Story Hour, get your photo taken at the Family Portrait Gallery, and more. The People's Playground will also feature the inPUBLIC Family Portraits Art Show by Stefanie D. Belnavis of the Diahann Project, which documents the joy and community experienced throughout the inPUBLIC Summer Series
"inPUBLIC is about culture shift and reconnecting with one another around collective joy-making," says Kim Szeto, NEFA program director of public art. "This is an important part of this work of embodying new possibilities for more just and vibrant public spaces in Boston."
Wild Rumpus is the final event of DS4SI's inPUBLIC 2022 Summer Series, which aims to activate public spaces in Boston with opportunities for belonging, play, connection, rest, interaction, laughter, dialogue, learning and surprise. "The BID is all about 'clean, safe and welcoming' and our partnership with DS4SI is a key part of how we ensure that Downtown continues to be welcoming to everyone," said Anita Lauricella, Senior Planner at the Downtown Boston BID.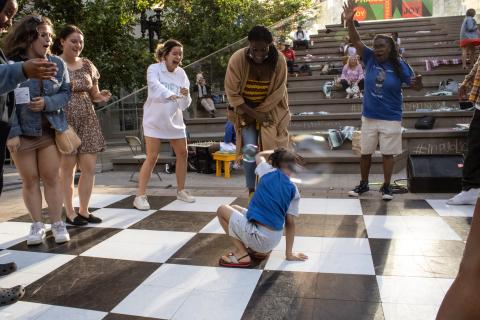 About the Organizers

Based in Upham's Corner in Boston, DS4SI is dedicated to changing how social justice is imagined, developed and deployed here in the United States. DS4SI is a creativity lab for social justice work in the public sphere, where activists, artists, academics and the larger public come together to imagine new approaches to social change and new angles to address complex social issues.
The New England Foundation for the Arts invests in artists and communities and fosters equitable access to the arts, enriching the cultural landscape in New England and the nation. NEFA accomplishes this by granting funds to artists and cultural organizations; connecting them to networks and knowledge-building opportunities; and analyzing their economic contributions. NEFA serves as a regional partner for the National Endowment for the Arts, New England's state arts agencies, and private foundations. 
About Public Art at the New England Foundation for the Arts
Through grantmaking and field-building opportunities, NEFA's public art program invests in artists and the creative process, cultivates artists as civic leaders, and strengthens a community of practice. NEFA's public art program is made possible by funding from the Barr Foundation and the Fund for the Arts, an endowed fund at NEFA.

The Downtown Boston Business Improvement District (BID) is a private, non-profit corporation created and maintained by property owners in Downtown Boston who are committed to improving the experience of all who live, work, visit, go to school or shop in Downtown Boston.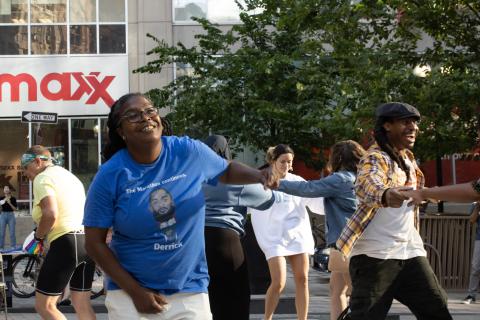 Contact
Joëlle Fontaine
Art and Creative Placemaking Lead, DS4SI
joelleds4si@gmail.com
inPUBLIC | Wild Rumpus is the culminating event of the inPUBLIC 2022 Summer Series, a series of events from May - August 2022 that creates and nurtures atmospheres, provides the tools and inspiration, which allows ALL of us to play, connect, dance, and BE our full selves in public space.
Visit DS4SI.org for a full listing of the inPUBLIC 2022 Summer Series events.