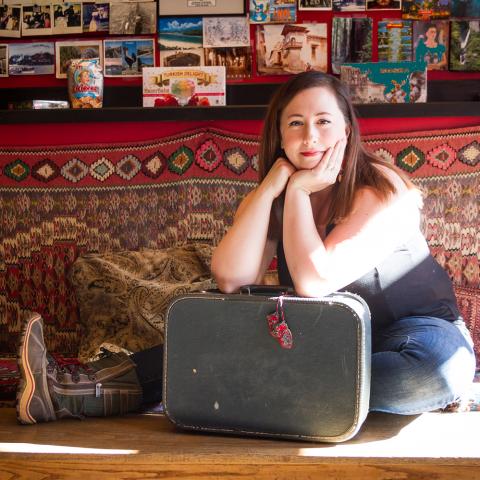 She/Her/Hers
Land of the Wabanaki Confederacy, Abenaki, and Pennacook Peoples (Gonic, NH)
Biography
Form(s)
Contemporary, jazz, multidisciplinary, collaborative, concert dance, physical theatre, immersive, participatory, site-specific and community-based.
What do you hope to gain from RDDI: New England Now?
For years now, I have been a passionate advocate for the New Hampshire dance community and it is my hope that RDDI will empower me with tools, relationships and resources to help strengthen my state's growing dance scene. I am also looking forward to the opportunity to grow as a choreographer and I anticipate that RDDI will help me tend to my artistic practice and build professional relationships throughout New England to find new and different avenues for my work.  
Biography
Sarah Duclos is a freelance choreographer and teaching artist based in New Hampshire,  who holds a Bachelor of the Arts in Theatre and Dance from the University of New Hampshire and a graduate certificate in Arts and Culture Strategy from National Arts Strategies and the University of Pennsylvania. As a young dancer, Sarah worked directly with Liz Lerman Dance Exchange during their two-year residency leading up to The Shipyard Project - sparking a lifelong interest in site-specific, community-based dance work. While studying at UNH, Sarah founded Neoteric Dance Collaborative (NEO) a multi-disciplinary dance company with a mission to build community through the art of dance. NEO has particularly focused this community-building mission in rural and suburban areas of New Hampshire and southern Maine, developing audiences for dance where there were previously none. NEO has performed Sarah's choreography on stages in New Hampshire, Maine, Massachusetts, Rhode Island, Vermont and at City Center in New York City. Duclos has worked as a freelance performer and choreographer, for both theatre and concert dance, and as an educator, notably working as a master teaching artist for Boston Ballet's Education and Community Initiatives, a faculty member at Phillips Exeter Academy's Department of Theater and Dance - where she served as Interim Director of Dance during the 2015-2016 academic year and internationally as a dance facilitator at the Abhainn Ri Festival of Participation and Inclusion in Callan, Co. Kilkenny, Ireland. She specializes in teaching classical ballet (Vaganova method), choreography and composition, dance history, inclusive dance for movers with disabilities and is one of the first dance educators in the world certified to teach all five levels of Giordano jazz technique. Sarah was appointed to the juried New Hampshire Arts in Education Roster in 2016 and she launched an online ballet curriculum for adults called Couch to Ballet in 2019. In 2020, Sarah was awarded a full scholarship from National Arts Strategies and the University of Pennsylvania to attend the Executive Program for Arts and Culture Strategy.  You can explore more of her work at http://www.vimeo.com/neotericdance.
Photo by Cora Paradiso