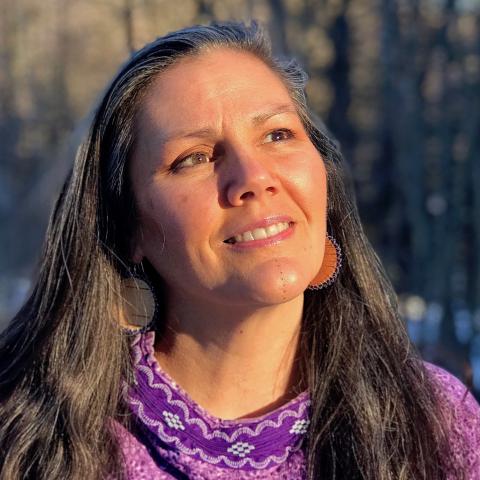 Iñupiaq - Athabaskan
She/Her/Hers
Advisory Council
Ashfield, MA
Biography
Rhonda Kay Alak Anderson (She/Her/Hers) is Iñupiaq - Athabascan from Alaska. Her Native enrollment village is Kaktovik. Her life work most importantly is as a Mother, as well as a classically trained Herbalist, Silversmith, and activist. She works as an educator within area schools and the five colleges near her home in Massachusetts. Rhonda has sat on several Indigenous panels and roundtables to discuss how to implement the Hyde Amendment within all IHS institutions across the United States, how to better educate Native students in Massachusetts, issues regarding Native teen drug and alcohol use, land acknowledgments, land back movement, Murdered and Missing Indigenous Women, and reproductive rights. Her activism ranges from removal of mascots, Water Protector, Indigenous identity, and protecting her traditional homelands in the Arctic National Wildlife Refuge from extractive industry.
"Vital. Vibrant. Visible: Indigenous Identity Through Portraiture" is an ongoing collection and exhibit of portraits of native peoples of New England, curated by Rhonda, to bring awareness to contemporary Indigenous identity.
Rhonda has been recognized for her work by the Massachusetts State Senate and The Massachusetts Commission on the Status of Women as a 2021 Commonwealth Heroine.
Rhonda is Western Massachusetts Commissioner on Indian Affairs, founder and Co-Director of the Ohketeau Cultural Center and the Native Youth Empowerment Foundation.