(Boston, MA) The New England Foundation for the Arts (NEFA) is pleased to announce the two Massachusetts-based recipients of the 2023 Newell Flather Award for Leadership in Public Art: Jeena Chang, Director of Community Programs & Design at the Asian Community Development Corporation (ACDC) in Boston, and interdisciplinary street artist Rixy, who is currently in residence at Elevated Thought in Lawrence, MA.
Founded in 2020, the annual Newell Flather Award for Leadership in Public Art honors Massachusetts artists, curators, and arts administrators in the field of public art who have demonstrated leadership in contributing to this evolving field. Each recipient is awarded $5,000 in unrestricted funds to celebrate their leadership and impact.
This year's public nomination process focused on uplifting emerging and unsung leadership and resulted in over 86 submissions for 46 individuals. The submissions were vetted by a panel of Massachusetts based cultural professionals.
NEFA is defining "unsung leaders" in the field as individuals who have been doing the work for a while and may have been ahead of their time as they paved the way for others. Over the past eight years, Jeena has made contributions to this field as both an arts administrator and community organizer working at the Asian Community Development Corporation. "From the Hudson Street Stoop project to her leadership with Residence Lab, one can see her commitment to community in public artmaking," said Kim Szeto, program director, public art at NEFA. "She lifts up artists using the power of public art as a means of placekeeping and inviting community into the process."   
"There are so many unsung cultural workers and organizers who do this work, and it is important that we see and affirm ourselves," shared Jeena Chang. "This award is truly touching, though, because it says, 'we see you, too,' - and it's a collective 'you' because none of this work is possible without the residents, youth, artists, and community partners who have dreamed, challenged, and experimented with me."
"Emerging leaders are the folks we want to keep an eye on," said Kamaria Carrington, program coordinator, public art at NEFA. "Their leadership is currently paving the way for more just, vibrant, and welcoming futures for our public spaces through their work today." Rixy is a self-taught street artist, generous educator, and mentor. "She shares her creativity and vision with others, from a leading role in bringing in more artists to Central Square's Public Art Campaign to her current work mentoring youth and anchoring public art processes at Elevated Thought in Lawrence," shared Kamaria.
"The award's acknowledgement feels like the treasure at the end of a risky and curious escapade," shared Rixy. "It's not an easy feat to learn the ropes along the way, and it's reassuring that what I'm doing is positively impacting others - the way it has me - and sparks my certainty in going further."
About the Recipients
Unsung Leader: Jeena Chang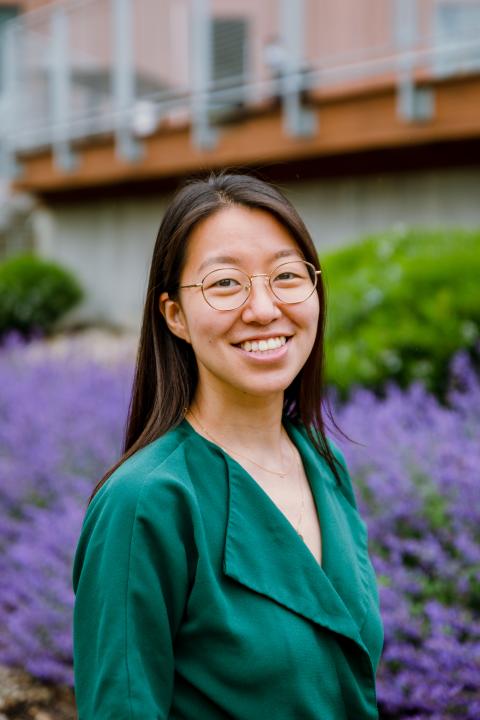 Jeena Chang  is the Director of Community Programs & Design at Asian Community Development Corporation (ACDC). Over the last eight years, Jeena has been building power among residents, especially working-class youth and immigrant families, to re-imagine land use in Boston's Chinatown and Malden. She leads ACDC's "ANCHOR" placekeeping strategy, which uses arts and culture to shape policy, planning, and development, with the goal of community self-determination. Under Jeena's leadership and vision, artists and residents of diverse ages and cultural backgrounds across Chinatown and Malden have co-created vibrant public artworks within these communities. In 2019, Jeena received the Rising Star Award from the Massachusetts Association of Community Development Corporations for "demonstrating potential, outstanding innovation, and leadership and achievement in Community Development." Massachusetts Promise Fellowship, an AmeriCorps network of youth workers, honored Jeena with the Supervisor of the Year Award in 2018.
On Saturday, August 19, ACDC will host the opening of Hudson St Stoop: Dancing Dragon. Hudson St Stoop is a rotating art exhibit to transform a contested green space into a community stoop for gathering, belonging, and joy. The public is invited to join ACDC and Hudson St residents in celebrating the second installation of this project, created by artists Parke MacDowell and Katherine Chin. Follow ACDC on Instagram at @asiancdc for updates.
Learn more about Jeena in this conversation with Kamaria Carrington. 
Emerging Leader: Rixy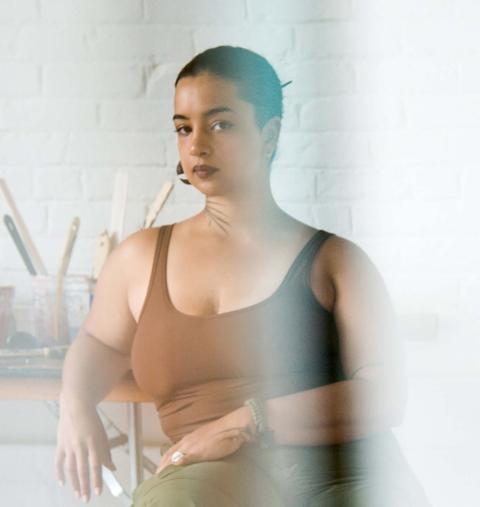 Rixy (she/her, b. 1995) is an Interdisciplinary Street Artist from Roxbury, Massachusetts, bred by Latinx Caribbean blood. Her self-taught and formal education is focused on a sensually sculptural awareness, worldbuilding through painted installations and public art. The legs of Rixy's works are exhibited on street-wide walls, currently from her base in New England, across borders, and rooted back in her Latin American cultures.  Recently, she introduced her exploration "Enter the Cúcala," a collection of new upcycled stories reflecting the raw footing of its' femme inhabitants. Materials such as recycled bodega boxes, found wood, and memorabilia adorn the works' presence, as an act of empowering the survival of our beauty. Shown at Simmons University's Trustman Gallery, Montserrat College of Art & Design, Chicago's Woman Made Gallery, and MECA Art Fair in the Dominican Republic. This practice has inspired her positions in Social Justice, Education, and Programming. Rixy attended TheCreateWell's Converging Liberations Residency at Mass MoCA, a Ruth Butler Fellowship to Mexico, recently completed her Now + There's Public Art Accelerator Program and is currently a Resident Street Artist with Elevated Thought.
In July at Elevated Thought in Lawrence, MA, Rixy is co-producing their first public art initiative, Elevated Spaces, which will include over 10 works made by Elevated Thought staff, apprentices, and special guests to inspire social change through the theme of Alternative Realties, visualizing the desired inclusivity in our communities. Follow along at @elevated_thought and www.elevatedthought.org/.
Learn more about Rixy in this conversation with Kamaria Carrington.
About the Newell Flather Award
The Award honors the late Newell Flather for both his relationship with NEFA since 1993 and his leadership in establishing and championing the Fund for the Arts, which was established in 1981 to advance and provide visibility for the arts in Boston and expand public recognition of the contributions the arts and artists make to the quality of life in our communities. As one of the co-founders of GMA Foundations, Newell Flather has been a respected figure in the field of philanthropy since the early 1980s. The Newell Flather Award for Leadership in Public Art is made possible by the Fund for the Arts, an endowed fund at NEFA.  
About NEFA's Public Art Program
Through grantmaking and field-building opportunities, NEFA's public art program invests in artists and the creative process, cultivates artists as civic leaders, and strengthens a community of practice. NEFA's public art program is made possible by funding from the Barr Foundation and the Fund for the Arts, an endowed fund at NEFA.
About NEFA
The New England Foundation for the Arts invests in artists and communities and fosters equitable access to the arts, enriching the cultural landscape in New England and the nation.  NEFA accomplishes this by granting funds to artists and cultural organizations; connecting them to networks and knowledge-building opportunities; and analyzing their economic contributions. NEFA serves as a regional partner for the National Endowment for the Arts, New England's state arts agencies, and private foundations. Learn more at www.nefa.org. 
  
Contact: Ann Wicks | 617-423-1390