First things first: none of this would be possible without an incredible team. I must give a special shout out and thank you to the National Theater Project (NTP) team members: Derek Schwartz, Program Coordinator, Abby Southwell, Technology & Data Director, and Jane Preston, Deputy Director, Programs. And of course, to our amazing Advisors. Thank you for your patience, your grace, and your tenacity. Zoom meetings are hard and five days of Zoom panel meetings are extra hard!
This year, NTP was joined by four amazing new advisors: Daniel Banks, Nathalie Nia Faulk, Mildred Ruiz-Sapp, and Torange Yeghiazarian. Bringing together this year's group of advisors was made more complicated by two unexpected departures as well as the normal three-year rotation. We wish to thank Micah Ariel James, Jonathan McCrory, and Steve Raider-Ginsburg for their strong and dedicated service to NTP. Linda Parris-Bailey will return next year, after a one-year leave of absence. Learn more about the advisor selection process.
When the preliminary application period closed on February 28, 132 Preliminary Applications had been started; 102 were submitted. Of those 102, three were ineligible; and one was withdrawn by the applicant, resulting in a total 98 eligible inquiries. Some things of note about this round of applications:
57% of applicants have not previously applied to the National Theater Project
We received applications from 27 states: Arizona; California; Colrado; Connecticut; Washington, DC; Georgia; Iinois; Kentucky; Louisiana; Massachusetts; Maine; Michigan; Minnesota; North Carolina; New Jersey; New York; Ohio; Oregon; Pennsylvania; Puerto Rico; Rhode Island; Tennessee; Texas; Virgina; Vermont; Washington
We received applications from 27 states this year as opposed to 22 states last year
We received applications from all six regions: Mid Atlantic (DC, NJ, NY, PA, PR): 49; West (AZ, CA, CO, NM, OR, WA): 15; Midwest (IL, MI, MN, OH): 9; New England (CT, MA, ME, RI, VT): 17; South (GA, KY, LA, NC, TN): 12; Mid-America (TX): 1
And we got our first application from Borikén (Puerto Rico)
The NTP advisors met via Zoom in early May to decide which projects will be invited to complete a final application for the NTP Creation and Touring Grant. NTP advisors take the decision and feedback process very seriously. We hope that by providing feedback on a particular project, unsuccessful applicants will have a stronger proposal if they decide to apply for funding in the future. Of course, as the applications get better each year, the decisions get that much harder. That is a great problem to have.
As always, the Advisor discussions were spirited and informative, and ultimately resulted in a very strong list of 25 final applicants this year. While the world is still dealing with the effects of a global pandemic into endemic, opening and reopening, racial reckonings, and as our artistic community continues to deal with great uncertainty about where theater and touring are headed, we remain committed to supporting artists in ways that will help them thrive in all of this uncertainty. This year, we will again be awarding Artist Development Grants of $10,000 to the 15 final applicants who do not receive the Creation and Touring Grant.
To submit a strong final proposal, each finalist works with an NTP advisor and the NTP team. The role of the Advisor is crucial to the NTP process. Advisors may relay feedback on the initial application, and offer guidance on the narrative, budget, work sample selection, and strategies for tour planning and community engagement. This is relationship building is one way that NTP moves beyond a transactional relationship with applicants. Good communication between artist and Advisor means that when the application comes up for discussion during the final panel meeting, the application is put forward in the best light possible. The Advisors become an advocate for that project in the panel room and often form ongoing relationships with their Advisees. These relationships often last many, many years whether the proposal is funded by NTP. We also realize that the last three years have been difficult for the Advisor/Advisee relationship. In past years, we supported Advisor travel to do some of their advising in person. This year we hope that that in-person relationship might be possibility. The inability to build an in-depth/in-person relationship building has been keenly felt by Advisors and Advisees, and this year in particular, seems to have been difficult. Whether it is Zoom fatigue, reopening stress, or Covid itself, we appreciate the challenge and the effort put forth by both Advisees and Advisors.
Since the first round of National Theater Project grants in 2010, NEFA has infused over $9.69 million into the field through the program. To date, 86 new theater works have been supported through Creation and Touring grants; touring of those works has reached 43 different states across the U.S. National Theater Project projects have toured in-person and virtually to large and small arts presenters, military bases, universities, regional theaters, and festivals. NTP has supported these projects through convenings, networking, and grants. This year's ten awardees will receive Creation and Touring Grants, ranging from $80,000 to $130,000, providing funds for the development and national touring of new work. The grants also include an additional $10,000 to support the administration necessary to create and tour the project.
NEFA understands that the fields of theater and dance are ever evolving and intersecting. There are some projects where there is no clear delineation between the two forms, and those projects may also meet the criteria of both the National Theater Project and the National Dance Project. As a result, both programs desire to create processes which embrace that fluidity. We are excited to share that this year for the first-time, two projects have advanced as NTP and NDP Finalists. This is an exciting opportunity that demonstrates the expansiveness of our programs and the perception of the Advisors.
We value the artist's/company's/ensemble's ability to define their process/practice for themselves and honor their agency to apply to both programs. However, while it may be true that projects can fit within the boundaries of both programs, they may only receive funding from one. Therefore, to ensure we honor their efforts and our respective grant processes, NTP and NDP take the following actions:
Notify the project of their status in both programs;
Share the challenging nature of advancing as a NTP & NDP Finalist;
Inform the project that if they are awarded in one program, they must decide whether to accept that grant or take their chances in the other process.
I am happy to share the projects which made it to this year's finalist round. They will soon submit final applications and, in August will be notified whether they will be receiving an Artist Development Grants or Creation and Touring Grants. Regardless of which projects ultimately receive funding, all of the finalists are projects to watch - and I hope that other artists, funders, and presenters will look closely at all of the 25 NTP finalists. We believe them to all be worthy of funding and some of the most exciting devised, ensemble theater makers in the country. We look forward to engaging with all Finalists in completing the rigorous final application and wish them all the best of luck. The projects are listed in a random order to lessen alphanumeric bias.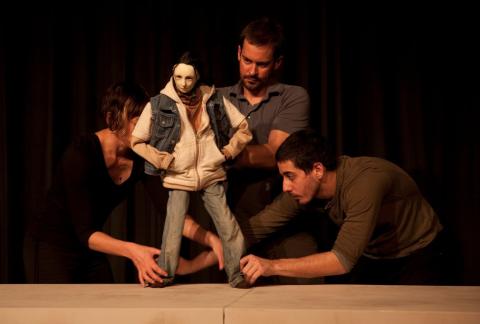 2022 National Theater Project Finalists
Please Note: As one extension of NEFA's land acknowledgment practice, we believe it is important to provide space for artists/companies to uplift the original caretakers of the lands they reside and/or create on. You will notice that this may be represented differently for each NTP Finalist. We respect the varied choices made by artists/companies in honoring and recognizing the original caretakers of land and the relationships that exist and are being fostered through these projects. In addition, project descriptions below represent the current understanding of the project by the artist/company and are subject to change as part of the full proposal submission.
Anna Martine Whitehead (Chicago, IL)
FORCE! an opera in three acts follows a group of Black women and femmes as they wait to enter a prison and escape a memory-erasing mold. Exploring the interiority and shared dream-spaces of characters with names like Down'N Batter'd, Rage-a Tha World, and The Blinding Light, this project explores what kind of relationships bloom in the shadow of the prison, imagining a strange sisterhood with the power to disintegrate walls. FORCE! is a sprawling surrealist opera blending the sounds of gospel, folk, pop, and contemporary experimental jazz, and is made with a majority Black, femme, and queer cast. Making experimental performance work about the feminist potential of the ante-prison with such a cast is not only critical, but powerfully healing. By exploring sound, movement, and dreams with one other we (those who are most impacted by these interlocking forces of oppression that the prison industrial complex runs on) put into practice the free world we have dreamt of.
I'm based on the homelands of the Council of the Three Fires: The Odawa, Ojibwe and Bodéwadmiakiwen Nations; as well as the Miami, Ho-Chunk, Sauk and Meskwaki, Kickapoo, Peoria, and others. Chicago is home to many more thriving native communities.
---
La Carpa De La Frontera, Theater promoting social justice and healing
La Carpa De La Frontera is a site-specific tent-like vaudeville touring show which can be taken into communities in most need of healing from the current pandemic situation. These performances will address issues such as immigration, race, gender, human rights, labor rights, accessibility, and culture in comedic form using the concept of the old carpa style used in Mexico during the 1930s, 40s, and 50s. The intent is to build a touring troupe of performing artists who focus on social change creating a show dealing with social, political issues through a comical platform that any vulnerable communities of any city can enjoy.
I acknowledge that we sit on and give honor to the Kumeyaay indigenous land.
---
Llontop
AnEn's Llontop integrates new machine learning technologies into an interactive, narrative installation and live performance that seeks to recognize the tenacious vitality of the Quechua language and culture in a contemporary context. The physical environment of the installation is a luminescent interactive installation of inherited Peruvian objects, including a collection of purportedly pre-Columbian pottery. The audience travels through the installation using mobile devices to trigger podcast-style audio content that weaves a tapestry of personal ancestries and the history and current state of Andean culture. The piece then coalesces with the audience coming together through the live performance of Quechua poetry by the celebrated poet and activist, Irma Alvarez-Coscco. Llontop layers documentary audio, poetry, live camera feeds, cinematic underscoring, and projections with delightfully intricate media programming.
On the lands of the Munsee Lenape Canarsie
---
Yankee Bajan
Yankee Bajan is centered in the African Diasporic search for place. The work follows an African American family of expatriates to the Caribbean Island of Barbados during the two-year pandemic. Their relocation to the ancestral home of their parents and grandparents is an emotional and musical journey as they realize their American privilege and continue their search for home beyond the "White Gaze." Collaborating artists Linda Parris-Bailey, Charlotte Brathwaite, Russel Watson and Stefan Walcott have developed a media rich journey to the Caribbean. In this time of uncertainty, there is a commonality for our search for connection. In the spirit of Sankofa, this work looks to the future acknowledging the lessons of the past.
I am presently on the original and traditional lands of the TSALAGYWETIYI, Cherokee East, Muskogee, Catalpa, and other indigenous peoples, named and un-named. I continue to honor the caretakers of the land.
---
Adaku
Sweat Variant (Brooklyn, NY)
A theater piece centered around a young African American girl who loses all of her hair after using a chemical straightener, only to have it restored by the power of a mysterious, unhoused woman. The young girl's hair comes back with properties that restore genetic and cultural memory and allow her to discover her family's precolonial past. A work that centers around the complexity of repair, physical and psychic, that will require traveling to the past and into the future.
On the lands of the Munsee Lenape
---
Arms Around America
Arms Around America is a devised, community-based theater project investigating ways in which we enact fear, power, identity, loss, and love through our relationships with guns. It culminates in a collection of short plays and monologues based on oral histories of families whose lives have been shaped by guns. A graduate student's 9mm pistol goes missing. A widow agonizes over giving away her veteran husband's historical rifle collection. Fresh out of jail, a young man searches for the younger brother he mentored in their adolescence on the streets. Staged as a radio theater company performing a live broadcast, three actors navigate a forest of microphones, voice dozens of characters, and create live "Foley" sound effects at tables piled with bizarre items. The performers share the stage with eight audience members seated at a kitchen table, who comment on the action as it is happening.
On the lands of the Tongva / Gabrielino peoples
---
Canciones (working title)
Developed in collaboration with Sol Project, Radical Evolution (Rad Ev) will develop and tour CANCIONES, a multi-generational performance piece using Linda Ronstadt's seminal album, "Canciones de mi Padre," the highest-grossing Spanish-language album in US history, to explore the oft-cited, rarely understood Mexican-American experience. The show will be created through our unique, creative process co-led by RadEv co-founder Beto O'Byrne and artist-in-residence Galia Backal, and tour to Latinx communities throughout the US.
On the lands of the Lenape
---
Carlota
In 2025 GRP will premiere Carlota, a new musical built in collaboration with ensemble member Denise Frazier. Carlota will examine the life and descendants of Carlota Ruíz de González, a fictionalized version of a 19th century AfroCuban revolutionary. Jumping back and forth in time, the story will revolve around González's time as an enslaved woman in colonial and Reconstruction-era New Orleans, her work in the Cuban War for Independence, and the connection with her great-great-granddaughter Carlota James, living in present day New Orleans.
On the lands of the Biloxi, Chitimacha, Houma, Choctaw Nations
---
Carr Creek Community Play
We are creating a play which will center the stories of Black Appalachians and the towns displaced by construction of a government dam at the height of the civil rights movement. Community memory events, archival research, oral histories, and story circles will inform the content and tone of the play, which will tour locally and nationally to audiences with similar stories. We will connect communities and cultures beyond the performance by establishing relationships with touring partners through storytelling and listening events before, during, and after the tour. We seek to bridge this story to those in other places and build relationships through art and storytelling, contributing to a larger history-as-resistance movement. Becoming better oriented in the truth of the past equips us to move further into stories of displacement globally. Finally, the histories and materials accrued through this project will be preserved and publicly shared by archive, museum, and media partners.
On the lands of the Shawnee, Cherokee, and Tsoyaha/Coyaha
---
Compass
A cross between documentary theatre, dance, and community meeting, Compass (previously titled Candidate X) celebrates risk-takers who defy the gendered expectations America has of "leaders." Based on interviews across the country with locally-based activists, teachers, cabinet secretaries and everything in between, Compass elevates stories of female, trans and non-binary voices across what is called the United States. Compass' young protagonist embarks on a journey towards creating systemic change, building the knowledge to empower themselves to become an advocate for others. Compass aims to create a new time signature with these intimate stories through a sensory based, expressionist, embodied space driven by the interior thoughts of Americans across generations, geography and racial identity. Compass celebrates new visions of leadership to reimagine the shape of things to come.
On the lands of the Lenape Munsee-Canarsie
---
In a Memory Palace
IN A MEMORY PALACE is an intercultural music/dance drama staged in four rooms – the Gate, the Nursing Home, the Train/Design Shop, Vienna in Splendor – that an audience walks through and has the potential to help create by contributing sounds and images. The work evolves over time through the direct participation of communities who experience it. Edith Newton draws on her family history to relate the story of Hedwig Müller, a couturier who catered to Viennese high society in the interwar period and who, with Hitler's rise, fled to the U.S. with her Jewish husband. Cast in two acts and an interlude, this work is set in interwar Vienna and a nursing home in contemporary America. The text draws on noh's literary form, where characters can simultaneously exist in a real place and time and, with even more potency, in memory. The work embraces noh's pared-down, intense power and stillness while incorporating the opulence of late 19th- and early 20th-century Viennese concert music.
A nomadic company these are the land acknowledgements for the project's lead artists. :Ainu peoples (Tokyo, Japan); Anishinaabeg (Belmont, MI); Coahuiltecan peoples (South Texas); Mohican (Elizaville, NY); Ohlone, Muwekma and Ramaytush (San Francisco, CA)
---
In The Name Of The Mother Tree
Our world is a sanctuary—a brilliant, bioluminescent, biome for Black thriving where the ocean is beyond the sky and the dawning of a new day lives inside. In The Name Of The Mother Tree is a theatrical ceremony that centers folks who've become comfortable with irregular and ill-fitted breath, until hell breaks loose, and they are left sifting the husks of their memories. Two sisters emerge, after the catastrophic rupture, to re-enliven a polyphonic practice of prismatic world-making and communal repair that shifts the trajectory of their destinies for generations to come. Developed in collaboration with long-time creative partners The National Black Theatre and Dr. Alexis Pauline Gumbs, who wrote the source texts for this work, In The Name Of The Mother Tree explores concepts of "generative apocalypse," Black feminist metaphysics, and climate reparations through procession, ritual, dance, live music, and poetry.
I live and work in what is now called Harlem on the island of Manhattan (Mannahatta), the lands of the Munsee Lenape people.
---
Keysmash: A Conversation about Mental Health
A "keysmash" according to urban dictionary, is "exactly that, a random smashing of the keyboard that conveys intense or overwhelming emotion that cannot be expressed through words." And we know that is often what trying to talk about mental health can feel like. For young people - and adults - there is a tremendous amount of shame, stigma, and secrecy wrapped around these topics. Keysmash; A Conversation About Mental Health is a theatre and dialogue project from Rising Youth Theatre will bring youth and adults across a wide range of backgrounds together to talk honestly and compassionately about mental health. This project will center young people's voices and leadership in the creation of an original play that will radically imagine our community of care while also providing tools for immediate support. This project will be an opportunity for Rising Youth Theatre to develop a model for touring its unique way of making intergenerational theatre in community spaces at a national level.
On the lands of the O'odham Jeweḍ, Akimel O'odham, Hohokam
---
Project Aid Access
Project Aid Access is a theater project that includes oral histories of women, girls, and trans men in the U.S. who have medically self-managed their abortions with telemedical support from international organization, Aid Access. This vulnerable community, primarily women of color, doesn't have access to on site clinical care due to geographic and financial constraint. With the threat of the Supreme Court overturning Roe v. Wade, self-managed medical abortion is the future of women's health. coLAB Arts will be working with medical researchers and theater practitioners at Rutgers University and Monmouth University in New Jersey and University of Texas at Austin to build performances that navigate politics and ideology to facilitate spontaneous audience discussions around abortion access and reproductive rights.
On the lands of the Lenni-Lenape
---
Philly Asian Futures
At the heart of Philly Asian Futures is absorptive imagination, informed by intergenerational reflections and manifested in the present as a living museum exhibition. As an exemplar of PAPA's member-based participatory artmaking model, performance artists will be paired with elders in facilitated listening circles to ground themselves in the history of Asian Arts Initiative's (AAI) Asian communities. From that research, the artists will develop installations/plays/responses that imagine the futures of Asian America(ns) in Philadelphia, to be premiered as a two week-long festival of performances occurring throughout AAI's three-floor multi-tenant arts facility. The installation itself will be documented and filmed in partnership with the Philadelphia Asian American Film Festival (PAAFF), using high-end equipment from AAI's Broadcast Studio. PAAFF and PAPA will then develop a film and installation proposal for submission to film festivals and partner sites throughout the country.
On the lands of the Lenape Nation
---
Sensorium Ex
One of the driving forces in building more equitable societies is the question of voice: what does it mean to have a voice - physically, socially, culturally, democratically? Who truly has a voice in society and how can different voices all be part of societal narratives and stories? These are the core inquiries of Sensorium Ex, an opera unfolding at the intersections of disability and artificial intelligence. The opera explores a mother's (Mem) relationship with her non-verbal son (Kitsune) and the ways they explore the nature of voice beyond language, and complex questions of humanity, family, disability and technology, together. Sensorium Ex is developed through co-creation between artists, disability communities and scientists. Grounded in an original libretto by poet Brenda Shaughnessy and a score by composer Paola Prestini - the opera serves as a platform to generate collective, artistic explorations of voice, disability, identity, family & technology together.
On the lands of the Munsee Lenape and Canarsie
---
Medea, A Soliloquy or The Death of Medea                                  
The Death of Medea is an exploration of intergenerational trauma, race, motherhood, and mental health, this piece challenges us to empathize with the unthinkable. Two women navigate the aftermath of violence and trauma, Medea and the Nurse are brought out of the dusty tomes of Greek mythology and into our world, in search of redemption. This meditation on mental health uses the Black woman's body as a vehicle into the work. We are seeking to discover: can this woman find redemption after the murder of her sons?
On the lands of the Chumash, Tongva and the Kizh in what was a multifaceted and rich history with many languages and districts.
---
THE GREAT AMERICAN GUNSHOW
THE GREAT AMERICAN GUNSHOW is an interview-based, community-driven project exploring American gun culture, gun violence and trauma, and the tension within our society over whether the "...right of the people to keep and bear Arms…" results in a further deterioration of our sense of safety. GUNSHOW will document, map, archive and reflect our collective experience through a series of theatrical presentations across the country, each imagined as a unique hybrid of a live performance and a local townhall meeting. GUNSHOW explores the humanity at the heart of the gun debate and invites participants to engage in a more nuanced discussion about guns in America by setting aside political polarization and asking a basic, essential question -- is there any hope for common ground?
On the lands of the Lenni-Lenape
---
The Joint
The Joint is an original musical about a community of people seeking love and redemption. The play explores heart: having, guarding, protecting one – also, opening it up to hope and change. In 1968, life in rural South Carolina revolves around a "juke joint," where locals come together for inspiration and companionship. After failing to achieve her dreams, Corrida returns home, needing salvation. Her return forces confrontations and reckonings – and opens paths to healing and renewal. Rousing Rhythm & Blues music and dance are featured players in The Joint, delivering everything from playfulness to heartache with fiery emotion. Southern Black vernacular gives this work wit and sparkle. This dramatic musical is the collaborative creation of the late composer Timothy Graphenreed, writers Dominic Taylor and Curtis Jones, choreographer Hollie E. Wright, director Kenneth Lee Roberson and creative producer Denise Gray. The team will also showcase the score in a concept album.
We begin this inquiry by acknowledging that our Harlem home stands upon the homelands of the Munsee Lenape, the indigenous people of this land. We recognize their continued bond with this land. We are grateful to the Munsee Lenape and we honor them.
---
The TransDiaries
The TransDiaries is a staged and choreographed cabaret that celebrates and elevates the lived experiences of the transgender, gender nonconforming, and intersex communities. This evening-length event features new classical, pop, and art songs, monologues, and short scenes exploring the transgender experience and the issues and opportunities that present for personhood, relationship, and society. The TransDiaries is co-created by leading creative voices in the transgender community, including conductor Lindsey Deaton; director John Jarboe; librettists Lady Dane Figueroa Edidi and J Mase III; and composers Grey Grant, Be Steadwell, and Daniel De Jesus. This project will premiere in January 2024, produced by Beth Morrison Projects, at PROTOTYPE Festival in New York City.
My home is located on the unceded land of the Kumeyaay, also known as Tipai-Ipai or Diegueño, tribe of indigenous people.
---
There is Nothing Micro about Micronesia
There is Nothing Micro about Micronesia is part 2 of TeAda's currently touring show Masters of the Currents (MOC) which was created by Leilani Chan, Ova Saopeng and Innocenta Sound-Kikku with contributions by numerous multi-generational Micronesian community members in Hawai'i. Part 2 has come about as a result of MOC's success and community leaders have requested that TeAda create the new work that focuses on the over-policing of the Micronesian community. Like MOC this new work combines community-based story collection and social justice practices with devised ensemble techniques to create a theatrical performance built with the involvement of the Micronesian community.
On the lands of the Gabrieleño, Gabrielino, Tongva, and Kizh
---
UNBOUND
In collaboration with New Mexican historian Dr. Estevan Rael-Gálvez, UNBOUND (UB) is a dance theater work/embodied archive examining the history of Native slavery in the U.S. Southwest, as well as its continued impacts on the land, the descendants of enslaved Native people and the cultures woven into this history. Dancing Earth (DE), an intercultural contemporary dance company rooted in global indigenous relationships and ecological-cultural diversity, commissions artist Sarah Hogland-Gurulé, in collaboration with other DE artists, to translate three decades of Dr. Rael-Gálvez's research into dance theater. All collaborators involved will share ancestral history of Native enslavement within their lineages. UB will be contextualized within multi-sensory experiences that include aspen branch gathering, story-sharing community dinners with locally grown foods native to the region, oral history soundscapes, documentary imagery and the exhibition of post-1848 archival material.
On the traditional lands stewarded by the Tewa and Tiwa Pueblo people
---
Will You Miss Me?
In the 1930s, scores of rural white workers from Appalachia traveled up the "Hillbilly Highway" to Detroit and other northern cities to work in factories. Where are they now? Will You Miss Me? is an outdoor theatre work devised by The Hinterlands that traces the migration and cultural assimilation of working-class white Appalachians to northern urban centers and suburban enclaves. Beginning as a funeral service, WYMM unfolds into a pocket-epic that merges physical theatre, traditional Appalachian song, family histories, and pre-Christian mythology to interrogate the construction of white identity. The touring work is intended for audiences in rustbelt cities with historical Appalachian populations, and other communities for whom questions of identity, cultural heritage, relationship to land, and erasure will resonate. Along with the performance, The Hinterlands will engage in a series of song-shares and conversations at touring sites and along historic paths of Appalachian migration.
In its (at least) 8,000 years of habitation, Detroit has been home to the Meškwahki aša hina, Peoria, Anishinabewaki, Bod wadmik, and Myaamia peoples and has been called Yondotega, Waawiyaataanong, Karontaen, and Teuchsaa Grondie.
---
Those with 2 Clocks
Those With 2 Clocks (T2C) is a patriarchy-demolishing creation and producing praxis and a hysterical work of live theater. T2C has its World Premiere in October 2022, produced by The Wilma Theater in Philadelphia, PA. We're inspired by the axioms "even a broken clock is correct two times a day" and "Those With 2 Clocks never know what time it is." All embodied activity - and Time itself - is distorted by the patriarchal tyrannies of our world. It'd be laughable if it wasn't so deadly. T2C asks you what time you're on, placing patriarchy at the ass-end of the joke before inviting audiences to co-birth a collective space of somatic release and party-based pleasure. T2C is co-created in community including advocates against gender-based violence, sex workers, burlesque performers, birth/death doulas, threshold singers and helmed by Jess Conda, Jenn Kidwell and Mel Krodman as the ensemble Tall Order.
We are on the unceded land of the Lenni Lenape people currently known as Philadelphia.
---
Requiem for a Stranger
Requiem for a Stranger is an expansive work of music, movement-theater, and community healing events called "Gorgeous Offerings" created by physical theater company Vagabond Inventions and Singer-Composer Renee Benson. This ensemble-devised project explores the heartspace of grief - an emotion that mainstream American culture has continually denied and avoided, but which currently overwhelms our daily life. "Our society as a whole is afraid of talking about death and suffering," states psychologist Pauline Boss, "We are a nation founded on unresolved grief." Requiem for a Stranger meets the moment of the Covid-19 crisis, our country's staggering losses, and the particular burden of grief in BIPOC communities. The project will draw a diverse community into a process of honoring our losses and will help reshape our cultural relationships to grief and mourning.
We reside in Bulbancha (the "Land of Many Tongues" in the Choctaw language), the ancestral lands of the Atakapa-Ishak, Caddo, Chitimacha, Choctaw, Houma, Natchez, and Tunica peoples, and the petites nations.