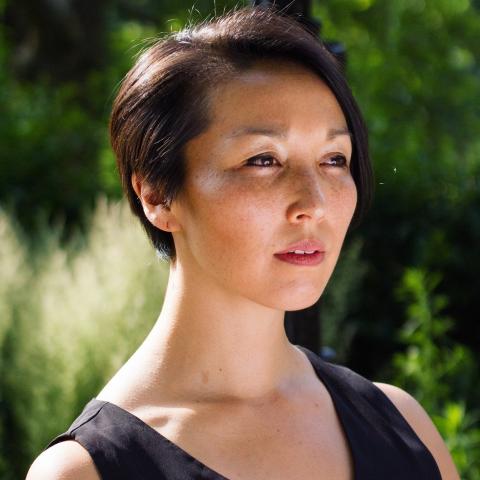 She/Her/Hers
National Dance Project Advisor
Land of the Tongva and Chumash Peoples (Los Angeles, CA)
Biography
Michele Kumi Baer is a social justice practitioner, facilitator, and educator working to advance intersectional, anti-racist, and anti-colonial knowledge and practice in the nonprofit sector. Her career is focused on building and sustaining the principles, policies, and practices we need in order to realize more just futures for our communities.

Michele is skilled at conducting research and building consensus with diverse stakeholders to promote dialogue and action, propel new program development, and strategically enable nonprofits, foundations, and networks to create and embody more equitable and just practices. At Race Forward, Michele is developing the organization's strategy and portfolio of work advancing racial equity in and racial justice through philanthropy. She is frequently speaking and facilitating trainings on race, racism, and racial equity. 

Throughout her career, Michele has worked in programming, advocacy, research, capacity building, and communications roles to advance racial justice, gender justice, and disability justice at and through nonprofits large and small. Previous posts include work at The New York Community Trust, Columbia University, Dance/NYC, and the Global Fund for Women.

She has also worked in a consultative and/or advisory capacity with a variety of nonprofit and government organizations, providing input and guidance on their grantmaking, programming, and communications work. This includes previous work with National Endowment for the Arts, Harlem Arts Festival, Staten Island Arts, and Dance Caribbean Collective.

Michele is a mixed race, East Asian, cisgender, and non-disabled woman. She is a proud Yonsei (fourth generation Japanese American) who has both Japanese and mixed European ancestry. It was learning about her family's incarceration during World War II that propelled Michele into critical inquiry at a young age. 

Michele is also a trained dancer who has studied African diasporic dance traditions from Brazil and Haiti, as well as West African dance traditions (Mandé & Malinke) for over 14 years. She has danced professionally with Aguas da Bahia, Duniya Dance & Drum Company, and Kriye Bode, and has choreographed and taught in New York City; Providence, RI; and Oakland, CA. Her dance practice is core to her understanding and pursuit of social justice.

Born and raised in the San Francisco Bay Area—the ancestral and unceded lands of the Ohlone people—Michele is currently based in Los Angeles, on Tongva and Chumash land.

She has a Bachelors from Brown University and a Masters from Columbia University.
Photo by Shruti Parekh