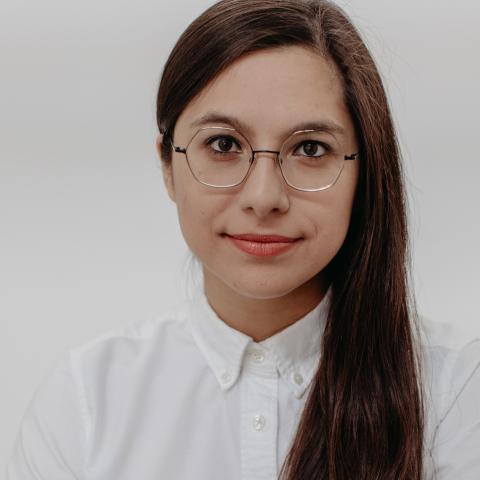 She/Her/Hers
Board of Directors
Guitarist/Teaching Artist | INPUT/OUTPUT
Boston, MA
Biography
Magdalena Abrego is a Boston-based guitarist and teaching artist. Utilizing the languages of free jazz and experimental rock, Magdalena's music confronts issues of musical tradition through genre-bending improvisation. Her most recent release is Seven, an album of nine duo compositions written for combinations of alto saxophones, bass clarinet, voice, electric guitar, and electronics. Magdalena maintains an active performance schedule spanning North America and Europe, performing at venues such as Jordan Hall, Roulette Intermedium, Bimhuis, and the Banff Centre for the Arts.

Magdalena first arrived in Boston after accepting a scholarship to attend Berklee College of Music's B.M. Performance program. At Berklee, she graduated summa cum laude and was awarded the distinguished William Leavitt Guitar Department Award. Magdalena then went on to receive the TD Canada Trust Music Fellowship in Jazz in 2016. Through this fellowship, she attended the Jazz and Creative Music Workshop at the Banff Centre for Arts and Creativity, where she studied under the direction of Vijay Iyer and Tyshawn Sorey. Following this residency, Magdalena received a scholarship to study Contemporary Improvisation at the New England Conservatory of Music. There, she studied privately with Anthony Coleman and Joe Morris, and worked as a Teaching Assistant to Ran Blake. Upon graduating with her M.M in 2019, Magdalena was awarded the Gunther Schuller Award for her impactful contributions to the conservatory.

In addition to her career as a performer, Magdalena has worked as a Teaching Artist throughout the Northeast since 2011. Most recently, Magdalena was invited to Dartmouth College as a guest artist, coaching the Coast Jazz Orchestra, visiting classes, and performing at the Hopkins Center for the Arts. Her career as an educator has led to her involvement in a number of arts education and youth development nonprofit organizations including ZUMIX, The Conservatory Lab Charter School, Girls Rock Campaign Boston, and The Loop Lab, where she currently works as a Media Production Coordinator. Magdalena's passion for community outreach in Boston was recognized in 2015 when she received the Urban Service Award from Berklee College of Music.
In 2018, Magdalena was awarded an Entrepreneurial Musicianship Grant from the New England Conservatory to found INPUT/OUTPUT, a magazine dedicated to supporting women and non-binary artists working in avant-garde, experimental, and improvised music communities in the United States. Issue no. 1: The State of Massachusetts features articles on the experimental music scene in Salem, avant-songwriters of Cambridge, free jazz in Boston, and more. Then, in 2019, Magdalena was awarded a second EM grant from NEC to expand the platform to a podcast series, INPUT/OUTPUT: In Conversation, which features long-form interviews with artists from throughout the Northeast.