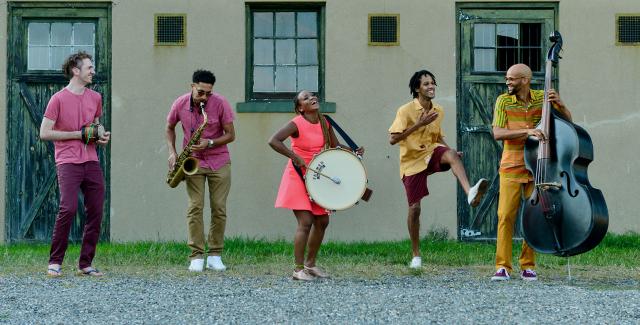 Grant Recipient
Music from the Sole/ Leonardo Sandoval & Gregory Richardson
Project Title
I Didn't Come to Stay
Grant or Program
National Dance Project Production Grant
I Didn't Come to Stay is a work of tap and percussive dance, samba, house, and live music, exploring tap's lineage and connections to other Afro-diasporic forms. With a cast of eight dancers and a five-piece band, the piece embraces these shared roots across the diaspora and reflects on racial and cultural identity, while celebrating the joy, strength, depth, and virtuosity of Black dance and music. Touring to dance and concert venues will underscore tap as both dance and music, expanding audiences for the art form. Community engagement is central to this work's development and touring, with pop-up performances, jam sessions, workshops, and discussions accompanying performances of the piece.
Music from the Sole creates on the land of the Munsee Lenape and Wappinger Peoples (Harlem, NY); Land of the Canarsie and Munsee Lenape Peoples (Brooklyn, NY).
Estimated Artist Fee: $25-31,000/performance, $45-50,000/week long residency, or $2,500/ virtual engagement.
Presenter Partners
Jacob's Pillow (Becket, MA)
Works & Process at the Guggenheim (New York, NY)
The Yard (Chilmark, MA)
Tour Coordinator
Leonardo Sandoval
Artistic Director
Music from the Sole / LeonardoSandoval.com
Tel. (917) 250-3429
NDP Presentation Grant
Contact the tour coordinator listed above for information on this project's tour dates, and to discuss joining a project's NDP tour and receiving a Presentation Grant.
Click below to REGISTER and BEGIN your grant application. You may save and return at any time.
Click below to LOG IN and RETURN to your grant application. 
 RETURN TO YOUR GRANT APPLICATION  

Work Samples