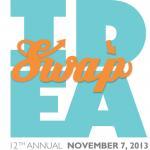 NEFA's 12th Annual Idea Swap
November 7, 2013, 9:30AM-3:00PM | Mechanics Hall, Worcester, MA
Schedule & Program
Participant List
Mini Swap Project Ideas 
Photos on Facebook
The Idea Swap is an annual event for New England-based nonprofit presenting organizations to network and share project ideas that may qualify for funding from NEFA's Expeditions grant program.
Grantee Spotlight: Puppets come to life through support from Expeditions
Get Involved: DISCOVER, Share & present project ideas
In addition to networking, Idea Swap participants are encouraged to share ideas in all stages with their colleagues from around the region. Project ideas are selected in advance to make five-minute presentations at the Idea Swap. Please see below for more details about how to present.
Discover project ideas
Visit the Idea Swap Project Ideas page to find out what other presenting organizations are working on.
Share your project idea online
Post your project to the Project Ideas page. Project ideas will be available on this page before and after the Idea Swap and will be distributed in hard copy to all event participants. View instructions for submitting a project idea. 

Present your project idea at the Idea Swap
In advance of the Idea Swap, NEFA selects 15-20 projects from the Project Ideas page to make 5-minute presentations at the Idea Swap. To be considered for presentation:

Project ideas must be submitted by Friday, October 18, 2013. View instructions for submitting a project idea.
Project ideas must include a link to a video or audio work sample of the artist (new this year). The work sample does not have to be of the proposed project. It will be reviewed by NEFA when considering project ideas for presentation. Work samples will NOT be posted on the Idea Swap Project Idea page. If chosen to present, you will be given the chance to review your work sample for the Idea Swap. 
Project ideas with at least one interested presenter and creative presentations, which may include the featured artist, are given priority. 
Schedule
View the Idea Swap schedule and program for November 7, 2013.
9:30AM-10:00AM
Registration Opens & choice of:
A) Light breakfast and networking (Main Hall)
B) New to NEFA or new to the Idea Swap? Receive an overview of NEFA and Expeditions from NEFA staff and learn about presenter member organizations from representatives of New England Presenters (NEP) and Arts Presenters of Northern New England (APNNE).
10:00AM-10:30AM
Welcome & Overview 
10:30AM-11:30AM
Project Presentations: In advance of the Idea Swap, NEFA selects 15-20 projects from the Project Ideas page to make five-minute presentations at the Idea Swap. View the project presentations in the program.

11:30AM-12:15PM
Mini Swaps: Participants will break out into small groups to informally discuss project ideas based on the disciplines of music, dance, and theater. These small forums will allow a larger number of attendees to share project ideas in quick, two to three-minute succession.
12:15PM-1:45PM
Lunch & Networking
1:45PM-2:30PM
Project Presentations
2:30PM-3:00PM
Open Mic Presentations: Sign up throughout the day to share your idea with all participants in three minutes or less!
3:00PM
End of Day (We promise we will end on time.)
Parking & Carpool
Parking
There is limited on-street parking available. The nearest parking lots are on Waldo Street, Exchange Street, Central Street x Main Street, and the Elm Street Garage. View a Google Map here.
Carpool
Please contact NEFA for carpooling options or to offer a ride for Idea Swap attendees.
Hotel
NEFA has set aside a room block at the Hilton Garden Inn for the nights of November 6 and 7. Rate is $145 per night. When you call, mention New England Foundation for the Arts to get the negotiated rate. For more information, call the hotel at 508.753.5700 or visit their website.