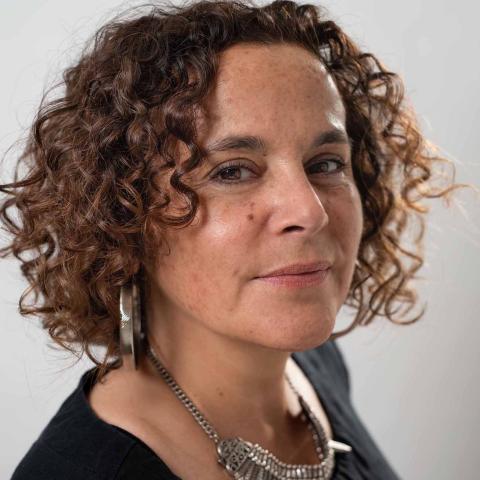 She/Her/Hers
Advisory Council
Waterville, ME
Biography
Elizabeth A. Jabar (She/Her/Hers) is a feminist printmaker who explores a range of personal-political issues in her work including cultural identity, representation, equity and maternal ethics. Her practice is located in the studio, the classroom and the community where she co-creates collaborative and participatory projects with students, colleagues and community members. Her hybrid works on paper and cloth display a highly personal visual language that incorporates motifs from popular culture, folk art, religious traditions, and textiles. Elizabeth's printed objects and environments embody printmaking's democratic tradition of resistance and collective power and reflect her commitment to art as a tool for social change.
Her most recent social practice endeavor is Hinge Collaborative, a community arts initiative and printmaking studio in central Maine. The studio is a platform for socially engaged art projects, educational partnerships, and cultural events in local communities across Maine. As a place-based initiative, the studio aims to foster ongoing relationships, strong community coalitions, cultural expression and meaningful belonging.
Elizabeth's works have been shown at galleries and museums nationally and internationally, including Victoria Arts Connection, Victoria, BC, Canada, Red Gher Gallery, National Gallery of Art, Ulaanbaatar, Mongolia, Women Networking, Zanzibar, Tanzania, Pyramid Atlantic, Rhode Island School of Design, Long Beach Island Foundation for the Arts and Sciences, Colby College Museum of Art, The Institute of Contemporary Art at Maine College of Art, William Patterson University, Hunter College and The Center for Book Arts, New York, NY.
Elizabeth's work is in the collections of Southern Graphics Council, Peck School of the Arts, University of Wisconsin, Wheaton College, University of New England, New Britain Museum of American Art, Portland Museum of Art, Pratt Institute, New York Public Library, Lillie M. Klevin Print Collection, Bemidji State University, Amity Arts Foundation, Tides Institute, Nova Scotia College of Art and Design, and Maine Arts Commission. Elizabeth has received recognition for her work including grants from the Kindling Fund and the Maine Arts Commission, and awards from Maine Campus Compact, Vermont Studio Center, the Quimby Colony, Arts and Equity Initiative and Zea Mays Printmaking Studios.
Elizabeth is the inaugural Lawry Family Dean of Civic Engagement and Community Partnerships at Colby College where she is designing an innovative program in community-based learning and active citizenship. Prior to her appointment at Colby, she was the Chair of the Printmaking Program and Associate Dean at Maine College of Art from 1998-2018, where she designed and launched MECA's distinctive social practice undergraduate curriculum, the Public Engagement Minor.