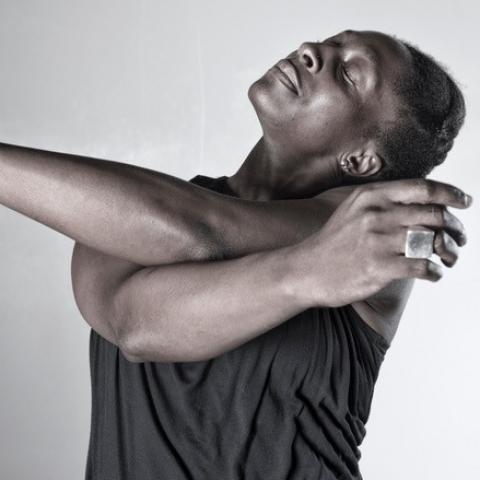 She/Her/Hers
Land of the Nipmuc and Pocumtuc (Holyoke, MA)
Biography
Form(s)
Contemporary dance theater, post-modern liturgical dance, performance installation.
What do you hope to gain from RDDI: New England Now?
How do I bring the knowledges and experiences I've gathered from my scenic tour of local arts ecologies (by way of research) back to my own work and to the forward momentum of that work through larger dance ecosystems? It is my hope that participation in this iteration of RDDI will provide the dedicated time and space necessary for strategic conversation and relationship building, individual and collective visioning, and putting concrete plans in motion necessary as I move through the next logical steps in my artistic development. 
Biography
Deborah Goffe is a dance maker, performer, educator, and performance curator who cultivates environments and experiences through choreographic, design and social processes. Since its founding in 2002, Scapegoat Garden (a Connecticut-based creative engine) has functioned as a primary vehicle and creative community through which Deborah has employed these processes—forging relationships between artists and communities, helping people see, create and contribute to a greater vision of ourselves, each other, and the places we call home. She is driven by an enduring commitment to world making, support of vibrant local and regional dance ecologies, and the role of curatorial practice in those processes. Together these commitments inform her work and teaching at Hampshire College in Amherst, Massachusetts where she serves as Assistant Professor of Modern-Contemporary Dance. 
Deborah's performance works have been selected for performance in regional, national, and international festivals and venues, including: New England's Center for the Arts at Wesleyan University (Middletown, CT), Wadsworth Atheneum (Hartford, CT), Real Art Ways (Hartford, CT), the International Festival of Arts and Ideas (New Haven, CT), Provincetown Dance Festival (Provincetown, MA), Bates Dance Festival (Lewiston, ME), Boston Center for the Arts (Boston, MA); New York City's Dance New Amsterdam, DUMBO Dance Festival, New York Live Arts, Artists of Tomorrow Theatre Festival, and the 92nd Street Y. Her choreographic work has also been performed internationally in Finland, Italy and Cape Verde. Deborah has been awarded Artist Fellowship grants by Massachusetts Cultural Council (2016), Connecticut Office of the Arts (2005, 2013), the Greater Hartford Arts Council (2007), and the Surdna Foundation (2008), and has been honored for Distinguished Achievement in Dance by the Connecticut Dance Alliance (2012). 
Photo by Jim Coleman