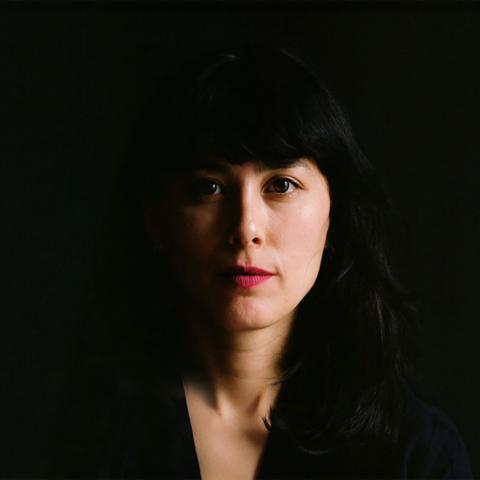 She/Her/Hers
Land of the Wabanaki Confederacy, Abenaki, and Arosaguntacook Peoples (Topsham, ME)
Biography
Form(s)
The forms that I am working in are collaboration and cultural somatics.
What do you hope to gain from RDDI: New England Now?
I am participating in RDDI to deepen my mutuality with place; to grow my understanding of what it is to live, make and show work as a mixed-race Asian woman on Wabanaki Confederacy land, and to build more bridges with people and organizations with which I share common values and goals.  
Biography
Aretha Aoki is a choreographer, performer, educator and mother originally from unceded Coast Salish territory (Vancouver, B.C.) and currently residing on occupied land belonging to the Wabanaki Confederacy (Maine).  Aretha's work has been performed at the Kansas City Art Institute (MO), the Kraine Theater (NYC), Judson Church (NYC), Portland Ballet Theater (ME), Franco Center (ME), School for Contemporary Dance and Thought (Northampton, MA), Brooklyn Studios for Dance, A.P.E Gallery Ltd. (MA), Danspace Project (NYC), the Academy of Music (MA), Movement Research Festival (NYC), Center for Performance Research (NYC), Catch (NYC), Exit Art Gallery (NYC, Culturebot's "Ephemeral Evidence"), New York Live Arts (2011/12 Fresh Tracks artist), the Kitchen (NYC, Emily Roysdon's A Gay Bar Called Everywhere), the Chen Dance Center (NYC, 2010 Newsteps artist-in-residence), the Firehall Arts Centre (Vancouver, BC), AUNTS (Brooklyn, NY), the 92nd St. Y (NYC), and Studio 303 (Montreal, QC, 2007 Vernissage-danse artist in residence). She was the Dance Consultant for the theater production, Babette's Feast (2018), which premiered at Portland Stage (ME) and had an Off-Broadway run at the Theater at St. Clement's. 
Aretha was an artist with the inaugural Seed Program (2015/2016), a residency exchange with Vermont Performance Lab and Studio 303. She has received funding through the New England Foundation for the Arts (2016/2017), Northampton Council for the Arts (2014) and the National Association of Japanese Canadians (2006). 
Aretha was a dancer and collaborating performer with Emily Johnson/Catalyst Dance for seven years (Terrible Things, New York performances of The Thank-you Bar, Niicugni, SHORE, and Then a cunning voice and a night spent gazing at stars). As a performer, she has worked with robbinschilds, Rebecca Serrell Cyr, devynn emory, Vanessa Anspaugh, Heather Kravas, Juliette Mapp, Daria Fain, Maura Donohue, Elizabeth Ward, Martin Lanz, Faye Driscoll, Lisa D'Amour & Katie Pearl, Kokoro Dance, Silesian Dance Theater, and others. 
Since 2016, Aretha has held the position of Assistant Professor of Dance at Bowdoin College. Aretha was Associate Editor at Contact Quarterly (CQ) from 2013-2016, and co-curator of the 2016 Movement Research Spring Festival, Hand Written Note(s) in NYC. Her lyric essay, "The Practice of Form: A Class by Ralph Lemon" appeared in CQ W/S 2016. Aretha holds a BFA from Simon Fraser University and a MFA from Smith College. 
Photo by Maria Baranova Photography