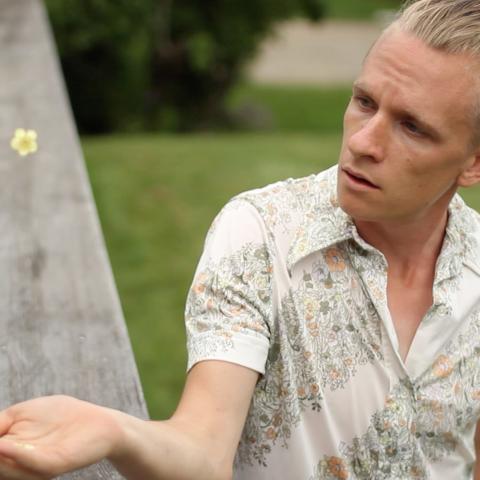 He/Him/His
Land of the Wabanaki Confederacy, Abenaki, and Pequawket Peoples (Biddeford, ME)
Biography
Form(s)
Modern/Contemporary, Improvisation, Site-Specific.
What do you hope to gain from RDDI: New England Now?
Through my participation as an RDDI: New England Now cohort member, it is my hope that I will gain a more comprehensive understanding of who my regional dance community is and how I can best work to serve as a cultural liaison for my creative neighbors. I look forward to fruitful collaborations with other participants who share a similar mission to create more equitable and sustainable opportunities for dance artists in New England. 
Biography
Scott McPheeters is a Maine-based performer and educator whose creative practice is comprised of interdisciplinary, site-specific investigations as filtered through his lived experience as a queer-identifying, cis-gendered, white person. He researches the social and environmental dynamics of place and develops immersive proposals for collective action that value vulnerability and intimacy as imperative community building tools. McPheeters co-directs dance and site installation company, Subcircle, and is a co-founder/director of Subcircle Residency - an artist residency in Biddeford, ME. that prioritizes serving performance-based artists.  
While living in Philadelphia from 2004-2017, McPheeters had the privilege of working with companies and individuals including Subcircle, Nichole Canuso Dance Company, Kun-Yang Lin / Dancers, Headlong Dance Theater, Bearded Ladies Cabaret, Enchantment Theatre Company, Marianela Boan, Bronwen MacArthur, Eun-Jung Choi, Eleanor Goudie-Averill, Beau Hancock, and Gina Hoch-Stall. In 2015, he received a Barrymore Award ("Best Lead Actor in a Musical") for his portrayal of Candy Darling in the Bearded Ladies Cabaret / Opera Philadelphia production, Andy: A Popera.  
In and around Philadelphia, his choreography has been presented at Fringe Arts, the SoLow Festival, the Evening of Duets Concert, and the ACDA Conference at West Chester University. Additionally, his work has been performed/exhibited in Hoboken, NJ., Washington D.C., Durham, NC., Baltimore, MD., San Francisco, CA., Berkeley, CA., and Incline Village, NV. From 2014-2017, he was the resident choreographer for Enchantment Theatre Company. 
McPheeters was as an adjunct faculty member at Temple University from 2015-2017, and has been a guest teaching artist at Drexel University, University of the Arts, Swarthmore College, Franklin & Marshall College, Rowan College, Stockton College, West Chester University, and Dickinson College. 
In January of 2020, McPheeters received an M.F.A in Interdisciplinary Arts from Sierra Nevada College. Since then, he has relocated to his hometown, Biddeford, ME, where he is currently exhibiting a new interdisciplinary project called Blaze at Engine. 
Photo by Jorge Cousineau