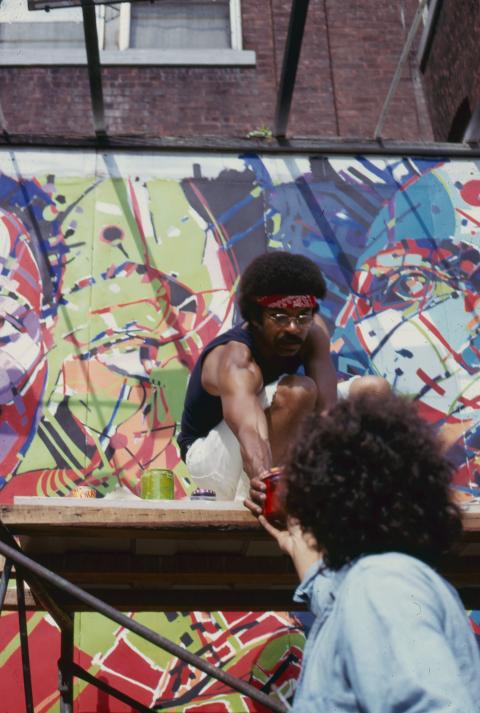 Knowing the History 
When I first started Common Wealth Murals and began organizing murals in Springfield, my friend, mentor, and winner of the 2021 Newell Flather Awards for Leadership in Public Art, Rosemary Tracy Woods, told me "If you're going to do murals in Springfield, you really need to know about Nelson Stevens and AfriCOBRA." Every couple of months she would ask me, "Have you learned the history yet?" I confess, I didn't prioritize it. Then one day, I was sitting in a conference room at the MLK Family Services Center waiting for a meeting to start, and I was transfixed by the most incredible painting of Dr. King that I had ever seen. As it turned out, the painting was done by Nelson Stevens. It was one of the rare and exquisite moments when a piece of art changes your life.
Inspired by that photo, I finally dove into the history of Nelson Stevens and his pioneering mural program in Springfield in the 70s. In 1968, a group of Black artists in Chicago formed AfriCOBRA, the African Commune of Bad Relevant Artists. AfriCOBRA member Barbara Jones-Hogu explained that the collective committed to creating works of art that "not only state our problems and solutions but also state our emotions, our joys, our love, our attitude, our character, our total emotional and intellectual responses and feelings."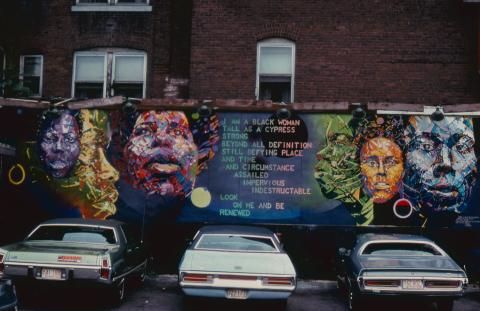 A tenant of the AfriCOBRA Manifesto was to create "art of the people and not for critics." Nelson fulfilled this by creating and managing a first-of-its-kind mural program in Springfield which resulted in over 30 indoor and outdoor murals. As a result, for a few years in the 1970s, Springfield was home to the only collection of murals designed in the AfriCOBRA aesthetic, created under the direction of an AfriCOBRA member.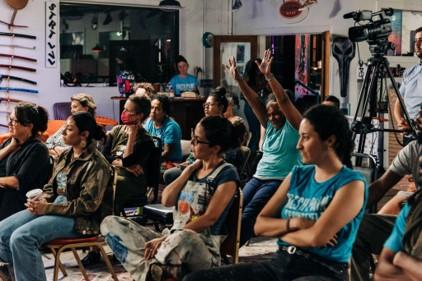 Of the 30+ murals, four were designed and painted by Nelson (the rest were by his students from UMass). But within a few years, all but two of the 30+ murals were gone. His Tribute to Black Women mural was intentionally whitewashed by the city in 1975, and his Wall of Black Music mural was lost when the building was torn down. Nelson's third mural was painted over several years later and there is no known record of the fourth mural.
Restoration as Spatial Justice
Nelson and I began speaking on the phone, and then he visited Springfield to participate in a community paint party Common Wealth Murals was hosting as we restored Springfields' oldest mural. Heritage was painted by Don and Paul Blanton during protests against police violence in 1968. During that visit, Nelson and I finalized plans to recreate two of his murals using the same community-engaged process.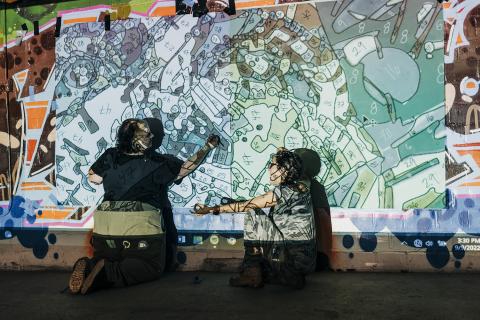 Supported by a NEFA Public Art for Spatial Justice grant, Nelson was going to repaint the murals with a team of 12 local artists participating in the Community Mural Institute (CMI). The CMI is a training program run by Common Wealth Murals and GoodSpace Murals that teaches artists how to create community-engaged murals using a technique that allows hundreds of people to help design and paint murals.
Tragically, two months before our project was scheduled to begin, Mr. Stevens passed away.
The Wall of Black Music had originally been painted in collaboration with Clyde Santana, a student of Nelson's at the time.  After Nelson's passing, Clyde stepped in to assist, finalizing the color palette, and sharing with the mural team the neighborhood vibe when the murals were first painted, the color theory they used, their techniques for mixing colors, the music they were listening to, and the people they met while painting.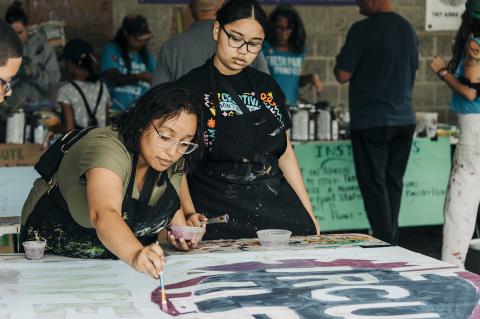 To recreate the murals, the CMI first created intricate color-coded digital outlines of each mural. These were projected onto mural fabric, creating 80 5x5ft paint-by-number panels. During two community paint parties and hundreds of studio hours, the CMI artists and over 300 Springfield residents carefully laid down the 95 different colors of paint. Many of the people who helped paint had known Nelson, and our work was done as a labor of love, an opportunity to grieve, and a commitment to honor this incredible man by ensuring his work would be permanently returned to the community.  
The mural panels were adhered to the walls using a process similar to installing wallpaper.  When finished, they appear as if they were painted directly on the wall and will last decades before needing to be touched up. The end result is beautiful, but the process is laborious, and we were racing the clock. The murals needed to be finished in time for a community commemoration of Nelson and mural ribbon cutting that would be attended by his family, elected representatives, friends, and community members.  The CMI crew worked day after day and into the nights, buoyed by countless shouts of encouragement from people passing in cars or walking down the street.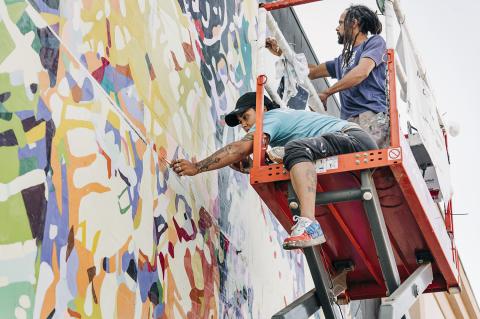 Public Art for Spatial Justice: Force Fields for Liberation
In 1975, Mr. Stevens said,
Recognizing that the least we can do is to leave our communities more beautiful than we found them, we have decided to do more… Some call them murals, others large paintings; but all know them as force fields activated in the service of our liberation.
In a 2015 interview Nelson said, "At my best, I am the hope and the dream of the enslaved, dedicated to following my calling to create visions of a liberated self. … It's based on race. It's based on excellence and it's based on joining a group of people who are going in the same direction you're going in to help you to get there."
48 years after these two force fields for liberation disappeared, the Tribute to Black Women and Wall of Black Music were returned and reclaimed by the community, infused with the love and commitment of hundreds of people going in the same direction, helping each other to get there.