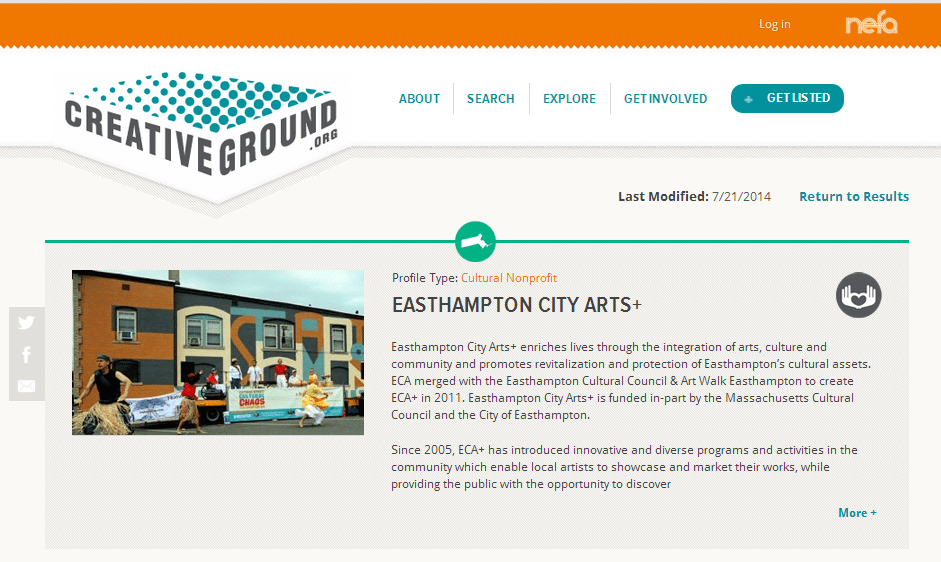 We sat down with Burns Maxey, coordinator for Easthampton City Arts+ (ECA+), to learn more about this dynamic organization. We learned so much about ECA+ and some of Burns' favorite organizations and publications. Find out more about ECA+ and their many programs and partnerships on their CreativeGround profile.
CreativeGround (CG): To start out, could you give us a rundown of a typical day for you at ECA+?

BURNS: ECA+ wears many hats therefore every day is unlike the next.  We could be installing a public art work, preparing for an exhibition in one of our three galleries, hosting a live crowdsourcing event, strategizing with the Cottage Street Cultural District, connecting a performer with a venue or helping a curator create a budget for a project from our MAP incubator space. We act as conduits, connectors, a funding resource, and idea makers and this we do daily on some level or another.
CG:  It sounds like you provide a lot of great programs. What is the one event or offering at your organization that should not be missed?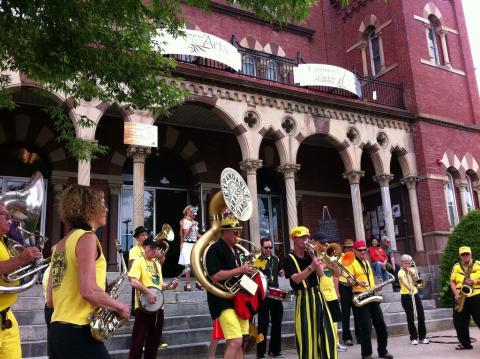 BURNS: We strive for quality for all of our events and offerings. However for creatives and visitors alike, on the second Saturday of the month, we host a great event called Art Walk Easthampton.  There is always a diverse selection of galleries, performances and events from experimental to traditional. It's a real grassroots effort that comes together each month because of all those who are participating. While you're in between one venue to the next you might make seed bombs, stand on a soapbox to read some Shakespeare, or experience a performance in an unusual place. Our September Art Walk is devoted to busking. Last year we had over 800 people visit Easthampton's Union Street alone. See you on September 13 from 5-8 PM!
CG: Okay, so we've got a good picture of what you do day-to-day. Could you tell us a little bit about how you're involved in the region's creative sector off the clock? What are you reading these days? Any favorite arts blog or online publication?
BURNS: I'm reading Civilwarland in Bad Decline by George Saunders. I hosted a living room performance at my house and the performer's partner left behind the book for me before they went on tour. I gave him the Brief and Frightening Reign of Phil for his trip.  For online reading, I was thankfully hooked up by one of our ECA+ members with "You've Cott Mail" by Thomas Cott of Alvin Ailey American Dance Theater. It's always fodder for the arts admin side of me with its multitude of voices of arts professionals. 
GC: I'm sure you're out and about a lot. What was the last New England creative business or cultural nonprofit you visited and what did you see?
BURNS: Flywheel Arts Collective! ECA+ and Flywheel are neighbors in the Easthampton's old Town Hall. Flywheel is a volunteer run organization that includes a performance space, zine library, and gallery. On a recent evening they had a packed house for a 30-minute original reading by Passport Theatre about a cat and a farm followed by a raucous music performance whose lead singer also had an opening in the art gallery. Flywheel just rolls that way and something wonderful comes from it. 
CG: If ECA+ could collaborate with any New England creative business, cultural nonprofit, or artist, which/whom would it be and why?
BURNS: We have such amazing resources here in the Pioneer Valley. It's hard to pick.  A group that we have worked with before and hope to do so again is the UMass Amherst Arts Extension Service. This national resource is close to Easthampton's backyard, being near the Five Colleges. UMass Amherst Arts Extension Service offers arts management training resources, informative publications, consulting services, and more. If you don't know them, you should. 
CG: How does CreativeGround serve ECA+?  
BURNS: As CreativeGround continues to grow, I know it will become a resource for our creative members to access venues and connect with other communities. We are always striving to give our members as many resources as possible to subsist on their creative work. CreativeGround has the capability of being a powerful tool for all of New England in the Creative Field. 
CG: Why should New England artists, creative businesses, and cultural nonprofits be listed on CreativeGround? 
BURNS: Because it takes that pesky reinvention of the wheel away from all of these small organizations and creative businesses who have been creating and maintaining clunky outdated databases since their technological existence.  It's user friendly and it expands our creative connectivity insurmountably.  We should all join it!
Thank you to Burns for giving us a glimpse into the ECA+'s innovative programs. Take a look at some of Burns' favorite creative businesses, organizations, artists, and publications! Browse CreativeGround to learn more about what's happening in your neighborhood and through New England and stay tuned for our next installment of "On the CreativeGround With. . ." 

Read our previous blog post here.

Image of Brass Band by ECA+