This blog post originally appeared on MAPC.org, written by Mallory Nezam with content provided by Carolyn Lewenberg.
Community events so rich that draw tens of thousands of people, age-old problems turned into new opportunities that instill local pride—these are just a few of the possibilities that emerge when art sits at the table to imagine new solutions for municipalities and communities. Early Monday morning, regional and municipal planners, artists and arts administrators convened at the New England Foundation for the Arts (NEFA) for the first in a three-part MAPC/NEFA Art and Culture Discussion Series: Community Building and Economic Development through Art. This collaboration between the NEFA and the Metropolitan Area Planning Council (MAPC) is designed to broaden the understanding of how art can contribute to planning work, and provide new entry points for planners and artists to work together on municipal planning and community development projects.
Kicking off Monday's event were several video clips highlighting the work of three pioneers in socially engaged art and creative economic development. We screened a section of a video featuring the work of Chicago based ceramic artist and planner by training, Theaster Gates, who provided evidence that art and culture can change communities. Gates framed his relationship to his practice in this way: as an artist, it's cool to make "the thing." But it's also cool to make "the thing that makes the thing." This set the stage for a discussion in which planners, who create plans and policies, to interact with community artists and arts administrators about ways in which to make "the thing that makes the thing." (See Gates video for more information about this reference)
Following the clip from Gates' video were presentations by two Harvard University Graduate School of Design 2018 Loeb Fellows, Eric Williams and Matthew Mazzotta. Williams shared his work in transforming a community space, known as the Silver Room, to a cultural and economic hub for Hyde Park in the south side of Chicago. His cultural community gatherings also extend beyond the brick and mortar, to the acclaimed Sound System Block Party, and a 3-day CONNECT Hyde Park Arts Festival. Co-hosted with the University of Chicago, the festival activates near-by empty storefronts with pop-up art exhibits and events. Williams reminded us that often times communities need space and freedom to allow new ideas to grow, and he shared gratitude for the planners he's worked with who trusted him to do something new.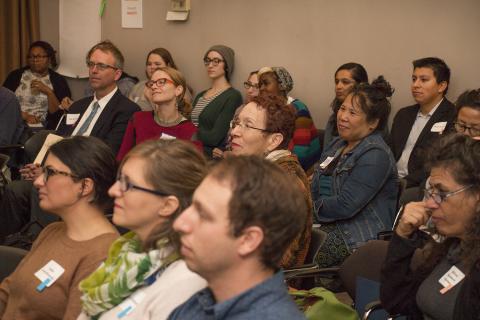 Matthew Mazzotta's work has brought him all over the world to work closely with communities in creating public art at the intersection of art, architecture, design, and urban planning. Mazzotta shared two examples of his community-engaged public art projects. Built along the main street of small-town Lyons, Nebraska, Storefront Theater transformed an abandoned freestanding storefront into a community theater that enabled community collaboration to produce a video about the town.
In his second example, Harm to Table, Mazzotta collaborated with climate scientists and chefs to showcase food made with ingredients that are anticipated to be extinct due to climate change. This project aimed to curate conversation about how climate change directly affects a community. His practice reminds us of the lasting impact of engaging community members as direct participants in processes, and the wide range of collaborations possible between artists and other community practitioners.
In the second part of our workshop, participants brainstormed solutions to challenges and opportunities in Salem, Medfield and Cambridge. Groups paired planners, administrators, artists and students together with a local representative to share cross-sectoral approaches to art-based solutions. These creative solutions ranged from reconnecting waterways through site-specific art, dance festivals and mental health awareness.
View the works of each artist below
The first in a 3-part series, NEFA & MAPC's Art and Culture Discussion Series will continue to explore how public art can address a range of planning goals and objectives related to green infrastructure, community building, economic development, and public health. This series aims to create space for artists, arts administrators, and municipal planners in the Metropolitan Boston region to share thinking, envision together, gain access to resources, and be part of a community working to create more opportunities for artists to contribute to municipal planning and community development projects.
Upcoming discussions in this series:
1.29.18      Art and Green Infrastructure
4.23.18      Art and Public Health
About New England Foundation for the Arts

The New England Foundation for the Arts invests in the arts to enrich communities in New England and beyond. NEFA accomplishes this by granting funds to artists and cultural organizations; connecting them to each other and their audiences; and analyzing their economic contributions. NEFA serves as a regional partner for the National Endowment for the Arts, New England's state arts agencies, and private foundations. Learn more at www.nefa.org.
About MAPC's Arts & Culture Division 
MAPC's Arts and Culture Division delivers technical assistance in emerging practice areas including cultural planning, creative placemaking, creative community development, arts and cultural data collection and analysis, and cultural policy. The division also develop and deliver trainings for planners, community developers, and local government officials that aim to build competencies in the aforementioned practice areas, and is responsible for the award-winning Arts & Planning Toolkit. 
Some content for this blog provided by Carolyn Lewenberg.