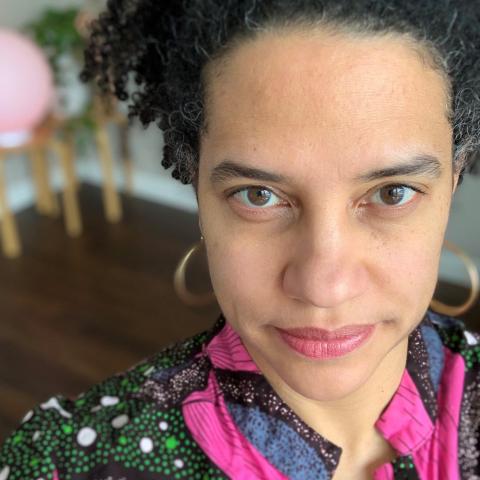 She/Her/Hers
Land of the Pawtucket and Massachusett Peoples (Lexington, MA)
Biography
Form(s) 
Contemporary modern dance, Improvisation, dance theater, interdisciplinary art, experiential installations, community engagement, writing.
What do you hope to gain from RDDI: New England Now?
I'm elated to hone my creative and executive skills through RDDI to make my work more powerful, and to connect with resources to help me build a sustainable dance career, which will enable me to help other dance artists in kind. 
Biography
Jessica Roseman (she/her/hers) is a dance artist who wonders: What makes you feel positive in your body? Can you think of a time when you felt comfort in your entire being? How do you know in your body that you are in a good place? How are you, as a viewer, connected to what you see? Without live performance, how can a dance concert be adapted to engage our collective imaginations, neurologically? How can we engage the feeling and communion of dance within our regular daily lives? 
Sensing and expressing the right action for the moment guides Jessica's work. She incorporates somatic practices into her improvisational dances. When choreographing, she examines how emotions are stored within the body. As she believes physical expression is universal, her dances aim to instill equality, and to resource our inner well-being. She acknowledges the senses in her dances, incorporating props like a mountain of wiggly Jell-o, and offering the audience cupcakes or smelling canisters to encourage sensory awareness during performance. She plays with the cultural tension, ever present in New England (land of monosyllabic conversations and dramatic weather), between private stoicism and public expressiveness. She is excited and confounded by close contact, impossible tasks, and stately/homely dancing. Her choreography explores themes of body positivity, liberation, trauma, grieving, and love. 
Jessica studied Dance and African American Studies with Honors at Wesleyan University. She danced professionally in New York in the 90's, co-founding Prowess, a downtown dance collective for women of color. She performed work and toured internationally with numerous choreographers. She took a break from dance to teach the Feldenkrais Method, and to have children. Four years ago, Jessica returned to her love of performance, collaborating and performing nationally with composer/musician Jorrit Dijkstra in Buzz: Improvisational Duets for Dance and Saxophone. 
As a solo artist, Jessica was honored to work alongside her mentor Deborah Hay in residency at the Atlantic Center for the Arts in 2019. Under the umbrella of her 2021 Nourish Project, Jessica was awarded a subsidized Subcircle Residency in Maine, and received residency sponsorship and a choreographic commission from Monkeyhouse. Buoyed by these supports, Jessica will be Artist in Residence at Lexington Community Farm, creatively exploring how food (in)security relates to family wellness. Additionally under Nourish, Jessica is partnering with Cambridge's Center for Families (under the Cambridge Department of Human Service Programs) to help Black mothers choreograph personalized dances for self care and racial justice. A New England States Touring Artist, Jessica's solo dances have been presented throughout the East coast over the years. She lives with her 10 year old twin son and daughter in West Suburban Boston. www.jessicaroseman.com 
"Jessica Roseman isn't interested in intimidating her viewers. She infuses her interactions with audience members with the same humility, humor and grace that radiates through her choreography. Her vulnerability and curiosity encourages people to engage and build genuine connections. Her work strikes at our common humanity...something that the world desperately needs." - Karen Krolak, Monkeyhouse Artistic Director 
Photo courtesy of the artist