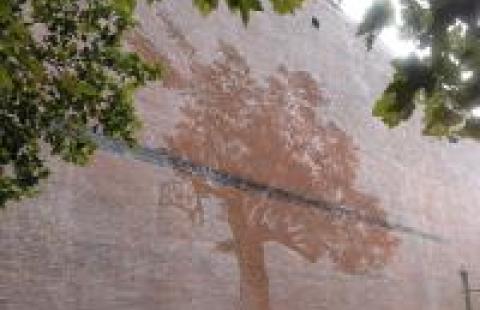 Contact Name
Will K. Wilkins
Post date
January 9, 2013
Project Dates
8/2012 to 12/31/2012
In 2012 Real Art Ways, in conjunction with the Wadsworth Atheneum and the City of Hartford, with support from the Ct. Commission on the Arts, commissioned and produced artist Adam Niklewicz's Charter Oak, a water-activated, large scale image on the side of a vacant building in downtown Hartford. When wet, the wall displayed an image of the historic Charter Oak, an icon of early American history. A video projected onto an adjacent wall was an image of a young tree, spinning in air.

This project has attracted world-wide attention. It was one of 7 projects funded by the State of Connecticut, designed to activate empty walls in urban areas in the state.

This is a continuation of work Real Art Ways has been doing since the early '90s with more than 30 public projects produced.