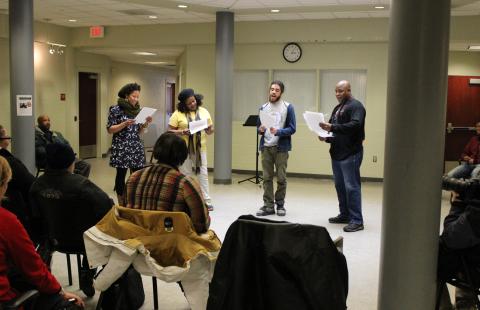 Contact Name
Elizabeth Nearing
Post date
December 16, 2016
Project Dates
October- May, Annually
Long Wharf Theatre (LWT) & the New Haven Free Public Library (NHFPL) are working together to broaden access to both organizations and combine assets to stimulate meaningful conversation throughout New Haven.
Community Conversations: Events at NHFPL branches to discuss issues in New Haven that connect with the plays produced at LWT.
Micro-branch: A curated mini-library in LWT lobbies during each show. Anybody with a Connecticut library card can check out a book and return it to their local library.
Library Pass: Each NHFPL branch has a pass that can be checked out to see a show at LWT for free.
Community Ambassador Program: A city-wide initiative to engage with people who might not otherwise have a chance to go to the theatre and spark conversations around the the work they see.