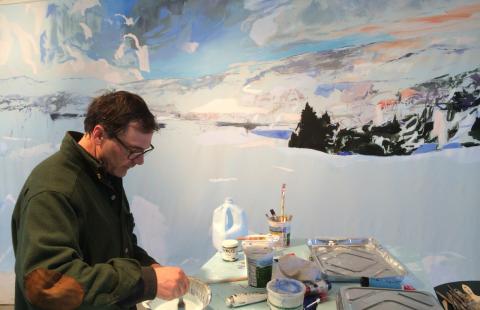 Post date
December 19, 2014
Project Dates
2010 through 2016 and beyond.
Workshop Leader
Creative Communities Exchange (CCX) 2015
MSA's Five Seasons is an original, community-wide arts project that weaves music, poetry, performance, theater art and history into a celebration of Saxtons River and its environs in Southern Vermont. As part of our capital campaign to fund our building's new, accessible addition, we commissioned five local artists with national reputations—Eric Aho, Charlie Hunter, Julia Zanes, Donald Saaf and Michele Ratte—to each paint a full size theater curtain representing one of Vermont's five seasons—spring, summer, fall, winter, and—mud. These art curtains are backdrops to the Saxtons River Suite written by Saxons River composer, Carol Wood. Each movement is based on a season and the lyrics for chorus are based on poems by VT poets, including two poems written by the eminent poet John Wood.