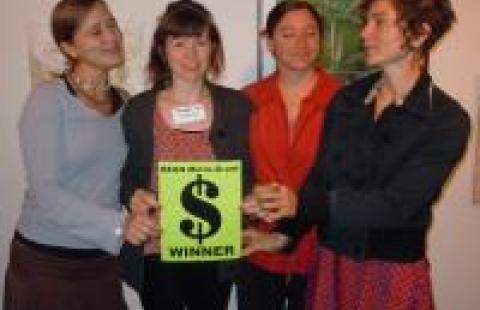 Contact Name
Margaret Shipman
Post date
January 8, 2013
Project Dates
three times a year
Workshop Leader
Creative Communities Exchange (CCX) 2013
Based on similar programs happening all around the world, B.E.A.N. Micro-Grant Dinners enhance the vitality of art and artists in our community by providing artists with much-needed financial support and encouraging dialogue and collaborative decision-making between artists and the general public.

B.E.A.N.also aims to change the face of arts funding — from a top-down model with limited interaction between funders and recipients to one that features direct, personal contact between donors and their beneficiaries, allowing virtually anyone to become a philanthropist.

For $12 anyone can attend a dinner catered and served by the Elliot Street Cafe, with live music by local musicians. Over dinner, guests review and discuss funding requests for local art-related projects.