On June 17, 2022, a core imagination team of artists (Dzidor Azaglo, Crystal Bi, Joelle Fontaine, Sheila Novak, Jenny Oliver, and Letta Neely) and artistic collaborators (D. McMillion, Bedalyn Dabel, and Diya Ghosh) working with the Design Studio for Social Intervention (DS4SI), in collaboration with NEFA and the Downtown Improvement District (DTX BID), co-hosted a public celebration of Juneteenth as part of this inPUBLIC summer series. All OUR Relations: A Family Reunion in Celebration of Juneteenth set out to:
... "Honor and celebrate the inherent liberation of our past, present and future selves, our inner children, and our ancestors. Juneteenth is a turning point away from bondage for the lineage of Black folks and is meant to be celebrated in a joyous and spectacular way. All Our Relations is a public afro-futuristic practice of making something new from our collective expressions of freedom."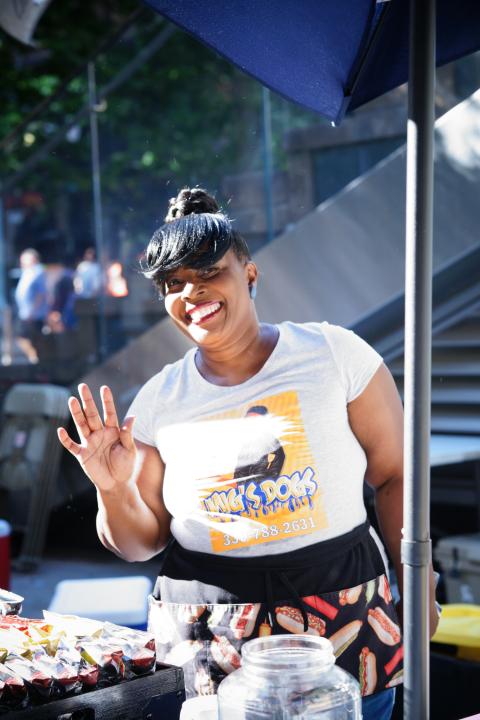 Long before there were cards, car sales, and officially sanctioned government holidays, my family always honored Juneteenth. The music was loud and clear from boomboxes outside or speakers pushed up to the screen windows. The sound was mixed with giggling and raucous laughter emanating from the kickball game being played in the empty lot across the street. It mixed with the smell of ribs, hot dogs and hamburgers on the grills. It was a people's sanctioned day off. Something we took for ourselves. My dad would later say, his boss was surprised every year that so many people took that day off. It was a personal holiday. Personal to our people. Even if we didn't all know the reason; didn't know what we were turning up for, we certainly know that people–our people–had been doing it for years and that we weren't finna stop no time soon.
When I first learned about Juneteenth, I reached into our ancestral memory and was transported back to Galveston, Texas on June 19, 1865, two and a half years after the Emancipation Proclamation. I feel the ripple effect of the word passing through town. I imagine we were stunned, we were elated, we were happy, angry, jumping up, breaking dishes, dancing, throwing dead fish in our "just a second ago" owners' faces. I imagine this totally new look that passed back and forth between us that says, "We free? Yeah, goddamnit, We FREE!" Let the dancing commence… 
What a sacred spectacular moment that must have been! Holding something new between us. The right to be, the right to express, the right to connect. It was ours. It belonged to us. I imagine those moments and smile from ear to ear.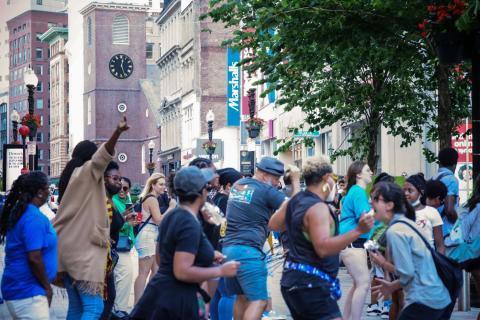 When the core imagination team began musing about our summer InPUBLIC series, for me, it was those two "memories" that oozed into our conversations. Community Joy–both unfettered. Despite our various trajectories, we all arrived and landed on Community and Joy. And we had a need to see ourselves wholly free, freely moving, raucously laughing and truly relaxed. All of these adjectives that are often seen as privileges we see as natural rights. Part of the package of being human. In our meetings we talked about how to create this type of atmosphere for all of us. How to claim and reclaim–without asking for--what is already ours. As a multi-racial group, it meant we had to dust off and shine up our collaborative muscles because there were hard conversations to be had and trust to be built so that we could curate a mini-version of the world that all of us in the core team, but hadn't often had the opportunity to build together.
We decided that inPUBLIC: Family Reunion would be the liberatory celebration to lead our ongoing series because this is the antidote to the legacy of united terrorism in these states that continues to confine our beings and segregationist laws that embed culture continue to restrict us from being in and/or enjoying public space. We have daily evidence that we hold in our own bodies--often reduced to data points and headlines--of our ancestors who were violently taken from us along the way: Jayland Walker, Cypress Ramos, George Floyd, Breonna Taylor, and Elijah McClain, and many more whose names we don't know.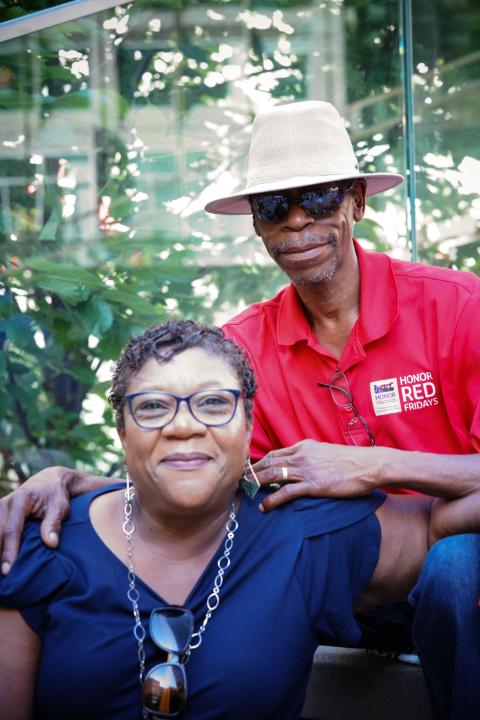 We asked ourselves: What does it look like when we harbor ourselves into the legacy we want to carry forward into our publics? What can it look like when all of us are free? If we don't reduce ourselves to only a roll call of names and instead opt in the eternal ancestral essence of our own laughter; then we link our joy to moments when Breonna, Elijah, Cypress and others were alive laughing raucously, dancing in their own skin freely. We link the moments Granger proclaimed that we were free in 1865, to the moments before the kidnapping and our arrival here. We link all that to our joy moments now because this deep knowledge of freedom is essential and our collective resource.
Times being what they are, we need to remember to cotton on to this long thread of joy. 
We need to claim space with abundance with our own styles. 
These are the legacies we pulled from on June 17, 2022, in Downtown Crossing. We were joined by Stiggity Stackz, A Trike Called Funk, the Boston Latin Academy Step and Stroll Team, Vogue X, DJ Jo Saint-Surin, Stefanie Belnavis, and Shellise's Double Dutch Crew. We collaborated with these artists to amplify the noise, the funk and the jubilation in Downtown Crossing. We were double dutching our tails off in the middle of the street. Teaching each other, reminding each other how to jump into joy. 
We were on the steps playing chess, checkers, spades, jenga, and mancala. We documented ourselves unbound and my, we are beautiful! We hula hooped. We electric slid. We wobbled wit' it. Y'all, listen…When Dzidzor, Cyrusgooddays and Kisseh's new song "Freedom" came sashaying through the speakers and Jenny choreographed a whole new line dance… We got it in. Yeah, we did. We saw each other and best believe, we'll be carrying these new moments with us, fresh for the treacherous journeys ahead.
These jubilatory moments are what spatial justice looks like, feels like, sounds like, smells like, moves like. We have an inalienable right to be, a right to express, a right to connect in public. This is the turn up for what.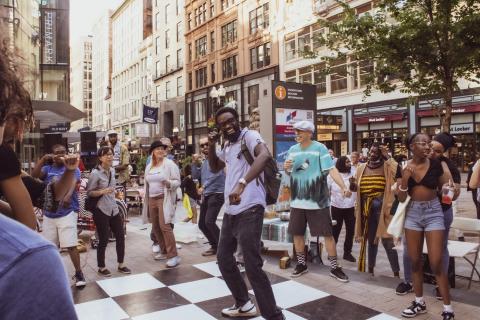 The core imagination team, DS4SI and NEFA continue to imprint the liberation journey with joy because we believe that the more liberatory ripples that we and others make will become currents and that these currents will eventually become a steady flow towards affirming life and connection.   
These events are part of the inPUBLIC Summer Series. The inPUBLIC Summer Series creates and nurtures atmospheres which allow ALL of US to play, connect, dance and BE in public space.  
Will you meet us at the steps in Downtown Crossing? We'll be waiting to turn up with you, fam. 
What's Next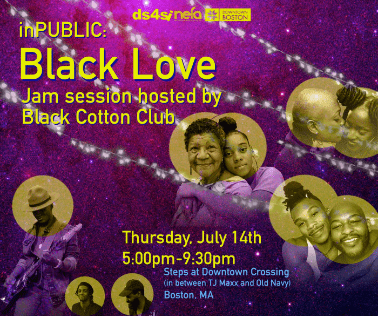 Thursday, July 14, 5:00 pm - 9:30pm, in Downtown Boston (Steps at Downtown Crossing in between TJ Maxx and Old Navy)
A jam session, hosted by Black Cotton Club that invites the audience to participate and interact impromptu with a live band. This month our theme is Black love: inviting poems, stories, songs, affirmations and more on the topic of love within Black bodies. 
August 11-13, in Downtown Boston 
A three-day arts festival centered around the theme of play.